Join the network of Moneytrans partners
We work with more than three hundred international partners worldwide, from financial institutions to major telecommunications operators, to bring new services to our customers.
Your money transfers in good hands
International money transfer agencies
Innovation and technology
Our in-house web connection system allows perfect synchronisation
Today we can rely on advanced technology that allows us to offer our partners excellent performance during the interface integration process. Our team of experienced developers is 100% dedicated to rapidly achieving the goals set.
Moneytrans Financial Services Hub
A modern technological platform and services which work as a router, facilitating communication and interoperability easily and safely. 
In order to explain this, let's look at an analogy with airports: just like certain airports in the world become "hubs" for whatever reason, years ago Moneytrans became a benchmark "hub" within the business of international money transfers. Using the airport analogy, Moneytrans Financial Services Hub handles the reception of orders from multiple sources, companies and countries, validated in a unique way, and then finally sends them through secure channels which are appropriate for our partners and, then, to the final recipient.
How is it possible to offer more than 450,000 payment points in over 140 countries with a proprietary structure in 8 countries?
It is possible thanks to our commercial alliances and a technological platform able to effectively and flexibly connect multiple companies in the sector.
Using the experience gathered over the many years spent passionately providing this service, Moneytrans has created a trusted network with their partners from all over the world, selecting the most reliable and renowned companies in the sector, always trying to offer maximum speed and security to our clients.
Working as a Hub increases the possibility of expansion, not just for Moneytrans, but also for other companies which are either in this sector or wish to expand, but do not have the resources, time or experience necessary to integrate with third parties' platforms. For this reason, Moneytrans Financial Hub offers all of them a consistent and simple way to achieve an enormous expansion of their network of destinations easily and with minimum development costs.
Much more than money transfers!
The diversification of our business is vital in order to keep us nimble and aligned with the changing world in which we live, therefore our hub is not limited to international money transfers, but we also offer the following services.
Current Account Services
Mobile Money
International & Local Bill-Payments
International & Local Mobile Top-Ups
Currency exchange
Ferry & Bus Tickets
Who benefits from our HUB?
Both licensed companies which want to start in the business or are established and want to include new countries in a consistent way. These are some of the benefits! 
Quick Time-To-Market 
We give serious importance to the speed at the beginning. This speed generates myriad competitive advantages y allows objectives to be met in the minimum possible time.
Competitive Prices As A Wholesaler 
Our commitment is to offer the best quality service at competitive prices. The main objective? The profitability of all operations.
The Best System 
We provide our white-label web system for managing transfers (Retail Market). A system which our partners describe as secure, simple, stable and reliable.
Our Coverage And Customer Service 
You will find the experience and coverage of a secure and established company like ours, with experts in incident management and the best customer service.
We have worked in the remittances sector for more than 20 years, and we hold our own licences to operate in 8 countries in Europe and Africa; these licences are overseen and audited by the national bank of each country.
We support compliance with all local, national and international laws; we rely on teams of qualified staff to check these laws are adhered to by all our departments, and we allocate a considerable portion of our revenue to fund the legal and technological measures needed to ensure full compliance.
Corporate social responsibility
Our commitment goes beyond offering a secure, high-quality service!
More than 10,000,000 residents with foreign origins are part of our Smile Community, through which we aim to transform the world and build a better society, beginning with finance.
This project allows us to boost the financial inclusion, education, empowerment, social integration and entrepreneurial spirit of people who live far from their country of origin. What's more, we offer them financial advice and support in their search for employment and their legal procedures… All to make our customers' lives easier!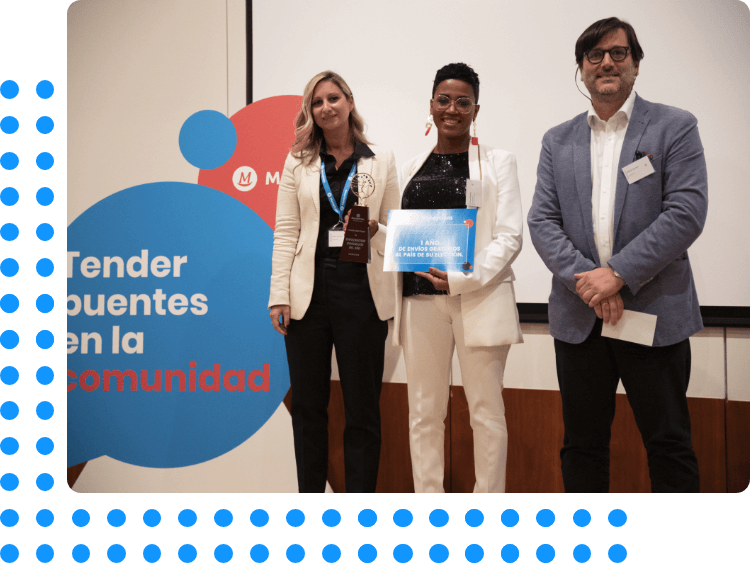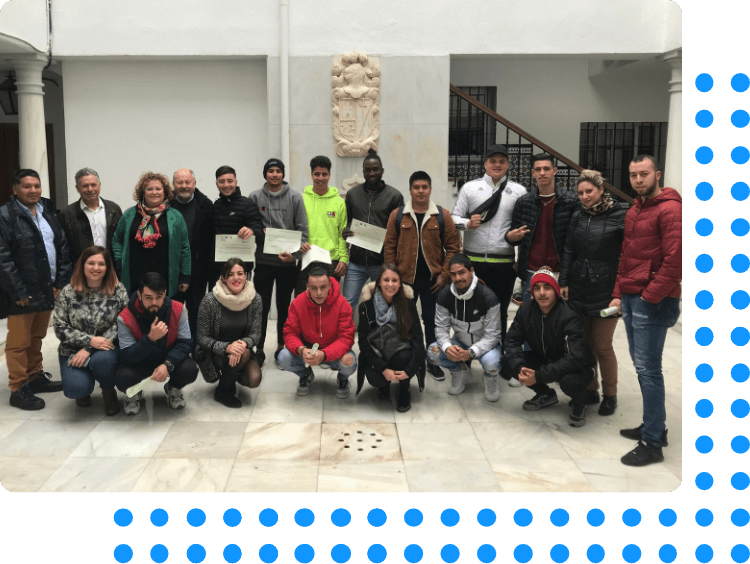 Our commitment is to build a better society with more opportunities for the most vulnerable and, to do this, we develop solutions for social advancement, education and culture.
Our partner companies receive a commission, which is previously negotiated and specified in a contract.
We currently work with over three hundred international commercial partners and financial institutions all over the world. One advantage of working with Moneytrans is the personal relations we establish with each of our partners, giving their brand visibility in Europe and Africa.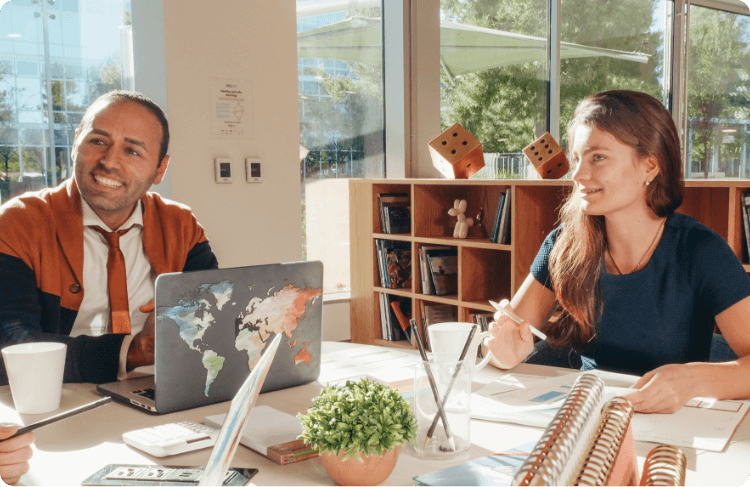 Start talking to your personal advisor now! You can ask for advice and information by emailing
partners@moneytrans.eu, or completing our simple form. Once we receive your enquiry, your personal advisor will contact you with all the details you need.
What do our partners think?
"Our collaboration with Moneytrans always goes the extra mile. In the very near future, we hope to strengthen our system and offer our services online, allowing remittances both to individuals' bank accounts and to Russian bank cards."
"Moneytrans has been (and is still) a true business partner. They've helped us grow our volume and consolidate our brand. We've worked with them for 8 years, and we hope to continue doing so for many years to come".