Opening a bank account in Spain as a foreigner is the first step towards a fulfilling life in our country. An account will make your day-to-day life much easier: you will be able to make physical and online payments, make deposits, withdraw cash, set up direct debits or send money whenever you want. However, opening a bank account is no easy task, especially when you are not familiar with the country. That's why it's important that you have all the information you need about the requirements to open a bank account in Spain and the alternatives that exist. Shall we get started?
Types of bank accounts
An account is the most basic product offered by a bank or payment institution and with which you can manage your finances. However, the term "bank account" refers to several types of accounts and each one has its own conditions. Therefore, the first thing you need to know is what types of accounts exist and, after becoming familiar with them, you can decide which one best suits your needs and purposes. Let's see which one is best for you!
Current account: this is one of the most common and literally works like your wallet. You can put money in and take it out whenever you want without penalty. In addition, you can associate a debit or credit card to make physical or online payments easily, set up direct debits and make transfers.
Salary account: this account involves direct deposit of your salary or any other regular income, such as allowances or pensions. However, many banks require a minimum salary of between €600 and €800. It offers benefits according to each bank, but a lower profitability than the savings or remunerated account.
Savings account: unlike the current account, this account is designed for savings, as its name suggests, and offers a minimum profitability or benefit for the money deposited through the so-called "interest". You will be able to send or receive money from other accounts and withdraw your money without penalties. However, you will not be able to make direct debits or withdraw cash at any ATM.
Interest-bearing account: this account is very similar to the savings account, but with a few differences. In this account, you can pay income by direct debit and, in some cases, it is possible to receive a card. However, the interest does not remain stable as in the savings account, it decreases as the months go by.
Can I open an account without a bank?
The answer is "YES"! Nowadays, traditional banks are not the only providers of accounts; neobanks or payment institutions are also licensed to offer these financial products with the security and guarantee of a bank. They are an increasingly widespread alternative all over the world and enable the financial inclusion of millions of residents of foreign origin who suffer from the problems of the requirements and bureaucracy of traditional banks.
This is where the Smile Account of Moneytrans comes in, a current account for everyday life that, for the first time in Spain, focuses on the communities of foreign residents in the country and allows them to unify their finances, saving time and money.
It has IBAN + a multi-service app to manage it.
It includes a free debit Mastercard in your name.
It includes discounts on money transfers and purchases all year round.
This is a more accessible current account that covers basic financial needs in a single multi-service app:
Make payments online and in physical shops.
Make deposits.
Withdraw cash.
Make national and international transfers.
Direct debit bills.
Free Mastercard.
Now that you know the types of bank accounts and the alternatives that exist, you should know the requirements and steps to open a bank account in Spain.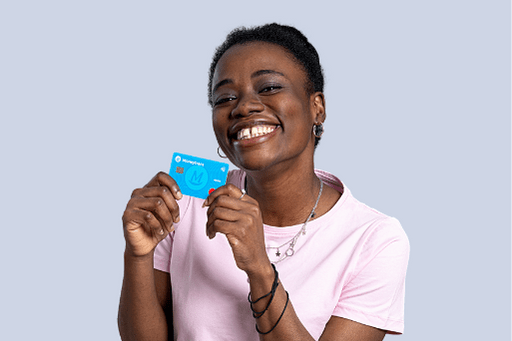 Requirements to open a bank account
If you want to open a bank account in Spain, the most common requirements are:
Be of legal age or, failing that, provide the authorisation of the legal guardian, as well as the Family Record Book.
National Identity Card (DNI) or Resident Card (NIE).
Proof of address.
E-mail address.
Contact telephone number.
It is also common for a high percentage of banks to request a copy of your last pay cheque, employment contract or tax return.
In some cases, to take advantage of promotions or to benefit from 0 commissions, banks ask for direct debit of bills with income of at least €600, a minimum number of transactions with the card or a minimum balance on the card.
Requirements for opening a Smile Account
If you are a resident of foreign origin, the Smile Account may be a more accessible option for you. The requirements are:
Be over 18 years of age.
National Identity Card (DNI) or Resident Card (NIE).
Proof of address.
E-mail address.
Telephone number.
Initial deposit of only 5€ that you can use immediately in your account.
How much it costs to open a bank account
According to European regulations, universal access to financial services must be guaranteed by offering a basic payment account at zero cost to people who can prove that they are in a situation of vulnerability. However, in practice it is not easy to get this condition and opening a bank account in Spain could cost between 45 and 80 euros. In the case of the Smile account, the first 5,000 accounts will have no maintenance costs for the first year to facilitate access to the account. You will only be asked to make an initial deposit of €5 to activate your account and you can use it immediately for whatever you want. It's yours!
On the other hand, different financial institutions set their own commissions. This is an important point when considering how much you are willing to spend on your account. Some of the most common commissions are: commissions for opening the account, issuing documents, withdrawing or depositing cash in other branches, postal charges, cheque deposits, transfers and overdrafts.
It is also important that you check the conditions of your account before opening it: Does it require a minimum term and if I do not complete it, will I be penalised? Will I get a free card associated with my account? Do I have to have a direct deposit of my salary? These are questions you should ask yourself before choosing your account. In short, you should always look for a financial institution that is transparent, with no small print and no hidden fees. When it comes to opening a bank account, you need to have all the information.
Steps to open a bank account
Do you want to open an account? Let's take a look at the steps to follow!
Find out about the types of account: be clear about your objective with this account and the use you are going to make of it. Remember that there are accounts focused on your day-to-day life, income management or savings. Decide which one best suits your needs.
Make sure you meet the requirements: this will save you a lot of time and effort, especially if you are going to open your account in a branch. Don't forget that, if you are a resident of foreign origin, there are alternatives to traditional banks that offer accessible accounts such as the Smile Account.
Gather the necessary documentation: it is important to inform yourself in detail about all the documentation required to open your account and make sure it is in force.
Choose the most convenient way to open your account:
In branch: if you prefer to open your account in person, you should choose the branch where you will open your account. Not only because it will be your branch of reference, but also because there are some procedures that traditional banks only allow you to do at the branch where you opened your account. That is why we recommend that you choose the branch closest to your home or work.Once you have chosen your branch, you will have to submit your documents – don't forget to bring a copy of them with you – and sign the contract. Before you sign, make sure you agree with all the points in the contract. Take the time to read it carefully, even if you need to think about it some more and come back another day. When it is about your financial health and that of your loved ones, it is important to be sure before you sign.
Online: If you prefer to skip the long waits at a bank, you can open your account digitally. You will have to go to the payment institution's website, choose your account and fill in your customer information, as well as upload all the required documentation and comply with all the bank's requirements. This is sometimes not an easy task. Once your details have been validated, the bank will send you the digital contract and an SMS with a code to confirm the contracting of the account.
Steps to open a Smile Account
The paperwork and impossible requirements of many traditional banks end up discouraging many people who need to open a basic account, especially if you are an expat and are not yet familiar with the country's financial system. However, since the arrival of the Smile Account in Spain, opening an account as a resident of foreign origin has never been easier!
Moneytrans offers the option of opening your account in a Moneytrans branch with personalised service or opening it directly online. No hassle, free for the first 5,000, and the best thing is that it only takes 5 minutes!
Here are the steps to follow to open your Smile Account: