Safety is present in every step we take
At Moneytrans, your peace of mind comes first. All of our security measures are designed to protect you, your data and your money. Whether it is in the selection of our partners or in the use of cutting-edge tools in the fight against fraud, we have everything under control!
Our system combines the best of AI and human expertise to ensure your identity wherever you are and with the smoothest possible experience.
To protect you against any type of fraud or identity theft, we make sure that the person who registers with your details is really you. This is why, before making your first money transfer we ask you for a government-issued ID featuring your photo and proof of address. Our customer service department will validate the information.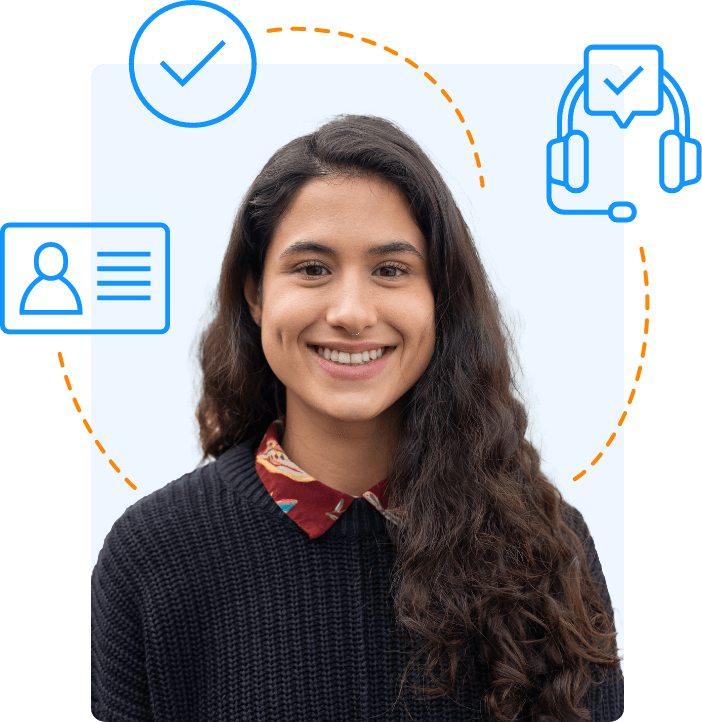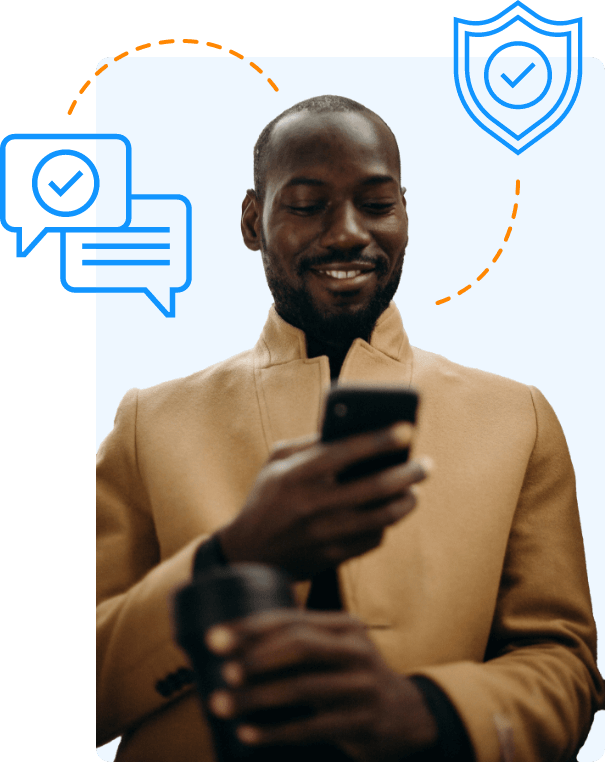 Additional security for your transactions
We will send you a confirmation code every time you make an online purchase or send money, your money will be totally secure!
At Moneytrans, we take the protection of your data and its use very seriously. This is why we have a robust security system that guarantees the encryption of your data and communications at all times.
We are fully audited and approved in 8 European countries
At Moneytrans, we monitor your transfers 24 hours a day, 7 days a week, so your money is safe at all times.
In the following video, our CTO – Luis Quijada – explains everything you need to know and gives you some useful safety tips.
By your side 365 days a year
If you have any problems, at Moneytrans we are always there for you. 365 days a year and in your language. You can call us on 7916810777 or write to us at clopez@moneytrans.eu or via our social networks. We also have a live chat, so you can choose the option that suits you best!
5 things you need to know to send money safely
Taking action against fraud
Information security: everything you need to know
Do you have further questions about safety?
Of course it is! At Moneytrans, we provide you with the latest security measures on the market to protect you and your money. The additional verification measures we apply enhance security and compliance with payment rules. Moneytrans also encourages users to better protect their accounts, set up strong passwords and identify e-mails and phishing messages. In addition, we have a team of professionals who are always available to help you with any questions or problems, and we have extended our business hours for your peace of mind!
How do I activate the Google Authenticator dual identification system?
We give you access to your account through Google Authenticator, so that your activity within it will be fully protected. This security system is optional, but if you have a smartphone, we recommend that you use it. Simply go to the "My Account" section of the "Money Transfer" section and go to the "Security" section. You will need to click on "Activate" and enter the code that you will receive by SMS. You will also need to download the Google Authenticator application, which will give you a code that you will need to enter every time you log in to our website.
Is it safe to send money with Moneytrans?
Moneytrans is an officially regulated financial institution in Belgium, Spain and dozens of other European countries. It has 20 years of experience in the remittance industry, more than 10 million satisfied customers and 50.1 million transfers made in more than 140 countries. You only need to read the opinions of our users to understand that we are a reliable company, supported by the central banks and using state-of-the-art technology to guarantee your privacy and the security of your payments.
What additional security measures does Moneytrans apply to my online purchases?
Each time you make an online purchase, we send you an OTP (One Time Password) code via SMS to increase the security of your online purchases. This is a numeric code for one-time use, i.e. a new code will be used for each transaction.
Maximum security in all your transactions.
We will send you an SCA (Strong Customer Authentication) code every time you send money, withdraw money from an ATM or agent, change your account details, block your card permanently... This way, we will validate all your transactions and your money will be totally safe. We will also send you an SCA code each time you make a transaction in one of our branches, informing you of the amount to send or withdraw. You will need to provide this confirmation code to your agent. We will also send you an SCA code each time you make a transaction in one of our branches, informing you of the amount to be sent or withdrawn. You will need to provide this confirmation code to your agent.