Stay close to Morocco with Moneytrans
We take care of you and your loved ones. Now you can send money to Morocco from the UK with your own mobile phone, without leaving your home and in just a few minutes.
Your first money transfer for FREE by using the code WELCOME
Your money transfer to Morocco with maximum security
We have the best network of partners in Morocco!
Your funds are 100% guaranteed as Moneytrans is regulated and authorised by the National Bank of Belgium
Payment system verified by Mastercard.
We work with the safest banks and payer networks in the world
- Official partners of Moneytrans -
How to register and start sending money online
Register on our website or download the iMoneytrans app free of charge.
Choose the country and the amount to send
We'll show you the prices, commission and amount to be received before the money is sent.
Add your beneficiary's details
Enter the details of the recipient in the destination country.
This is vitally important for the security of your money and for your peace of mind.
Choose the payment method that's best for you.
Your transfer is on its way! You can track it from your account.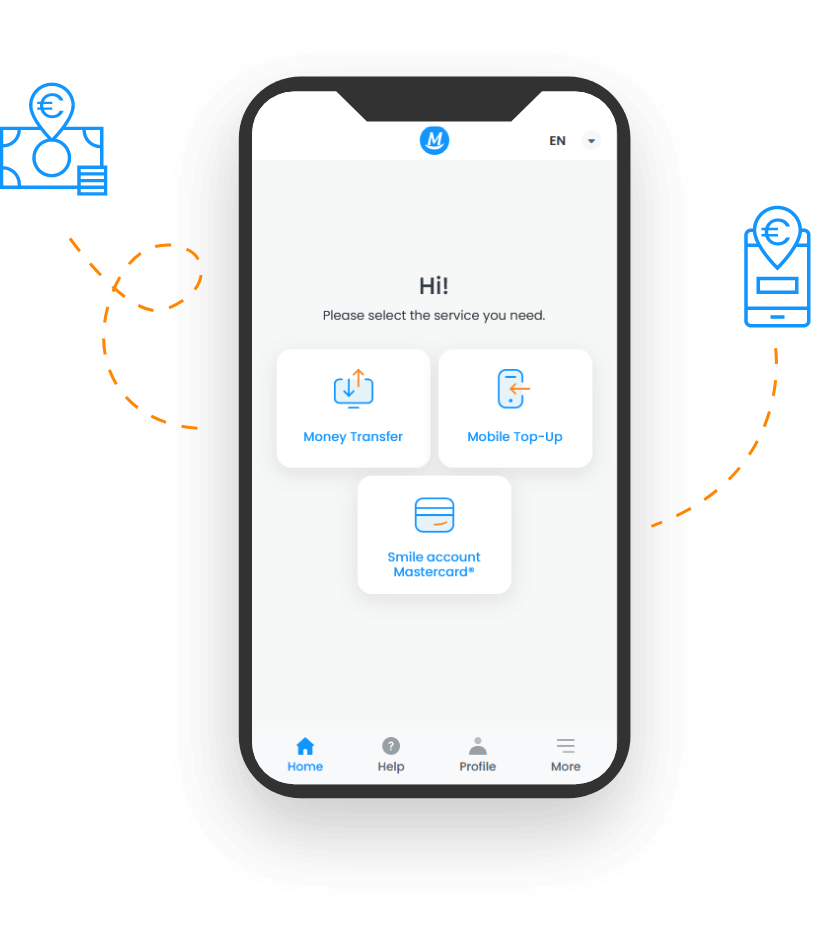 Sending money online is cheaper and safer than ever before. And with travel restrictions across the world, there's no better way to bring you closer to your loved ones.
What makes iMoneytrans the world's best money transfer app?
You can register in just 5 minutes
Easy to navigate
Free to download
Calculate the fee with the click of a button before sending
Your data is safe and secure
Easy to track your transfer at any time
Send money instantly anywhere, anytime. 
 Awarded Best Money Transfer Company
For its speed and reliable service
+ 10,000,000 customers trust in us
We're where you need us to be
Available 7/7 and in your language
140 countries & + 450,000 payment locations
 Awarded Best Money Transfer Company
For its speed and reliable service
+ 10,000,000 customers trust in us
Available 7/7 and in your language
140 countries & + 450,000 payment locations
How and where can the money be collected?
We know that it is important for you to be able to choose. Discover the options your beneficiary has for receiving money in Morocco.
Collect cash at an authorised payment point
Choose one of the 6.500 payment locations throughout the country. With this option, the beneficiary can pick up the money as soon as the transfer is completed.
Delivery time is 1 hour (depending on correspondent).
Send money straight to your recipient's bank account.
Delivery time depends on the bank: 48-72h.
You can choose from the following banks and financial institutions:
For cash pickup, Cash Plus, BMCE Bank, Wafacash, La Poste and Al Barid Bank branches are available. For payments to bank account, Moneytrans works with Morocco's major banks, including Attijariwafa Bank and Banque Populaire.
It's always easier with a video!
We'll show you step by step how to access the multiservice application and make your transfer within just 5 minutes.
How can my beneficiary in Morocco receive the money?
The recipient needs to present the reference number provided by the sender and a valid identity document at the payment point. The name on the ID document must coincide with the name on the transfer. If the transaction is made via the Mobile Payment service, the name on the mobile account must be the same as the beneficiary of the transfer. In the case where payment is made into a bank account, the payment will be automatically credited to the bank account indicated at the time of the transaction.
Is sending money with Moneytrans secure?
Moneytrans is a financial institution officially regulated in the UK, Belgium, Spain and dozens of European countries. We have 20 years' experience in the remittances sector, with 10 million satisfied customers and 50.1 million money transfers completed in more than 140 countries. You just need to read the reviews of our users to see that we're a trustworthy company endorsed by central banks and using advanced technology to guarantee confidentiality and secure payments.
Which banks and financial institutions does Moneytrans work with in Morocco?
For cash pickup, Cash Plus, BMCE Bank, Wafacash, La Poste and Al Barid Bank branches are available. For payments to bank account, Moneytrans works with Morocco's major banks, including Attijariwafa Bank and Banque Populaire.
What's the time limit for receiving money over the counter?
For Morocco, the transfer is available for collection over the counter for 30 days; after this the transfer will be cancelled by the agent at the destination.
How do I make changes to a transaction?
If you've already made the transfer, it can only be changed by calling our customer support service. If the beneficiary has received the money or it has already been paid, the transaction cannot be changed or cancelled. If you have more questions, get in touch with the customer service team on 7916810777.
Refunds are possible as long as the transfer has not yet been paid at the destination. For payments to bank accounts, make sure that the account number is correct, because once the money has been paid in, Moneytrans cannot reverse the transaction. For payments to mobile phones, refunds can be requested as long as the beneficiary has not used the money. For money transfers made online, the customer must request the refund from the online application. Moneytrans will receive the notification, the refund will be requested from the correspondent, and, once confirmed it will be cancelled in the system and the refund will be made to the customer's credit card.
What exchange rate do you apply?
It's always better to plan your money transfers in advance. Currency exchange rates are constantly changing, and it may be expensive to send money today, but cheaper tomorrow. To help with this problem and ensure you get the best price for your remittances, the Moneytrans online money transfer service provides a calculator so that you can find out the cost of your transfer and choose the best time to send money.
How long does it take to deliver money to Morocco from the time of sending?
Cash payments: 1 hour Payment to bank account: 48-72hours
How exactly does Moneytrans protect my money?
With our Moneytrans online money transfer service, your payment is processed instantly using 3D Secure technology, which guarantees stress-free transfers, and you'll receive confirmation of your payment by email or SMS. Additional verification measures enhance security and compliance with payment legislation. Moneytrans also encourages users to protect their accounts, create secure passwords and identify phishing emails and messages. However, when it comes to your money, issues may arise, and peace of mind when choosing a company for your currency exchanges is also an important aspect. At Moneytrans we rely on a team of professionals to take care of our customers and resolve any issues or problems you may have. We also offer our services by live chat, email, phone or fax, so you can contact us whichever way you prefer. Attention round the clock for your peace of mind!
How are the prices calculated for online money transfers?
The first factor is the amount of money sent. Commissions are calculated as a percentage of the amount transferred, and this varies depending on the currency. As a guide, consult the Moneytrans calculator, which will give the actual price of your transfer. For example, Moneytrans charges a fixed commission for certain destinations, which is lower than most commissions charged by shops or exchange offices. Furthermore, we offer a special deal for new customers, with zero commission so you can try our service free of charge. The second factor is the exchange rate. With Moneytrans, you always get the exchange rate shown on our calculator, so you'll know exactly how much your beneficiary will receive at the other end. A transparent and fast solution! The exchange rate is set by the banks and institutions that work with Moneytrans in the destination countries. Since Moneytrans has special agreements in 140 countries, your beneficiaries will get a better deal than with banks and most online money transfer services. Bear in mind that in addition to a lower fixed commission, our online service usually offers a better exchange rate. In short, with online transfers the commission is generally lower, so more money reaches your loved ones.
What's the maximum amount that can be transferred to Morocco from the UK?
£800 / transfer
£2 000 / 30 month
£4 000 / per quarter
Can I cancel a transfer before it reaches its destination?
Open a session on your account and view recent orders. Click "Cancel" next to the order you wish to cancel. Enter the details and click "Send". We'll do our best to cancel the order. However, we cannot guarantee cancellation until our local partner confirms that the money has not yet been paid to the recipient. If the transfer has been completed, we are unable to cancel it. For more information about our cancellation and refund policy, consult the page https://www.moneytrans.eu/united-kingdom/legal-notes-and-terms-of-use/
In which cases could the money transfer not be processed?
My transfer is under review Your security is our priority. If we detect suspicious activity, your transfer may be reviewed to ensure that it is in fact you who made it. We are sometimes required to collect additional information in connection with a money transfer in order to comply with European or global regulations. This may cause a delay in processing your transfer, but it is essential for your protection and for compliance with legal requirements. My transfer has been rejected Your transfer may be rejected in the following cases: Your application includes incomplete or incorrect details, either of the sender or the recipient. We detect suspicious activity and are unable to confirm whether it was you who made the transfer. The transfer does not comply with the Moneytrans company policies. A problem arises with regulatory compliance in Europe or another country.
What information does the beneficiary need to collect the money?
The beneficiary needs an URN CODE provided by the sender and a valid identity document, which must be presented at the payment location. The name on the ID document must be the same as the name on the transfer.