Every Spanish autonomous region, every province and every village – no matter how small it is – has a festival par excellence. That's why the best way to integrate into this country is to go to its celebrations, involve with its people and let yourself be carried away by the good vibes. So that you too can enjoy them, today we're telling you about the main festivals in Spain!
Spain has an endless number of things to discover but if there is one thing that characterizes Spaniards is that everyone is always willing to enjoy a good party. Maybe that is the secret of their cheerful character! The festivals in Spain are more than an event that is repeated every year, it is a celebration of its way of life and its culture. It is the engine that gives life to its streets and fills them with people with the single aim of having a good time! The most important?
April Fair  
Once a year Seville gathers all its art, joy and colour in the week of the fair. Its people go out into the street dressed in flamenco costumes with flounces, flowers and combs ready to sing and dance the famous sevillanas. Although it's not necessary to be dressed like this, to have a good time you just need to bring your desire to enjoy! People gather in booths where they eat, dance and drink the delicious 'rebujito'. You can also go for a ride on horseback or in a carriage. In addition, the little ones also enjoy this party because there is an area of attractions waiting for them every year! Thousands and thousands of people gather at the April fair. Why not be one of them?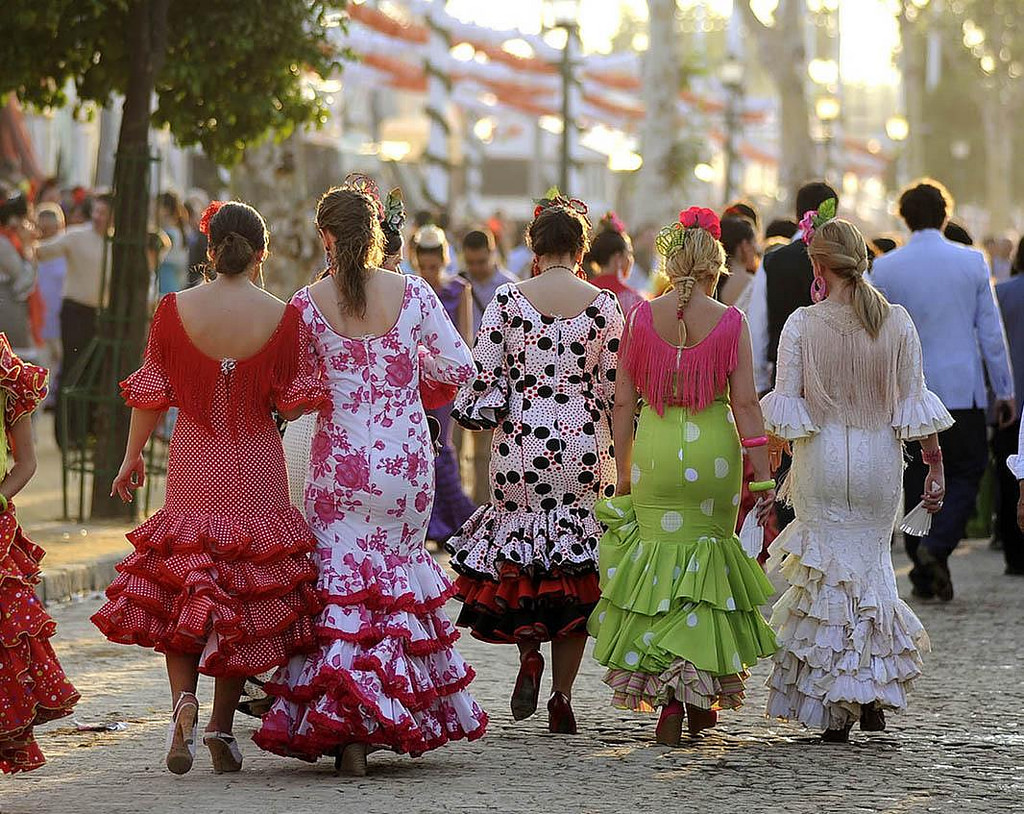 Sanfermines 
'1 de enero, 2 de febrero, 3 de marzo, 4 de abril, 5 de mayo, 6 de junio, 7 de julio San Fermín…'.  Learn it well because this song has become a hymn for attendees from all over the world! In honor of San Fermín, this is one of Spain's main festivals. It begins with the launch of the "chupinazo", the flare that indicates that Pamplona's big week has begun. Its main activity are the running of the bulls or races that some attendees do in front of six bulls each day dressed in white with a red kerchief. Others see it from the barrier. Without a doubt the safest option!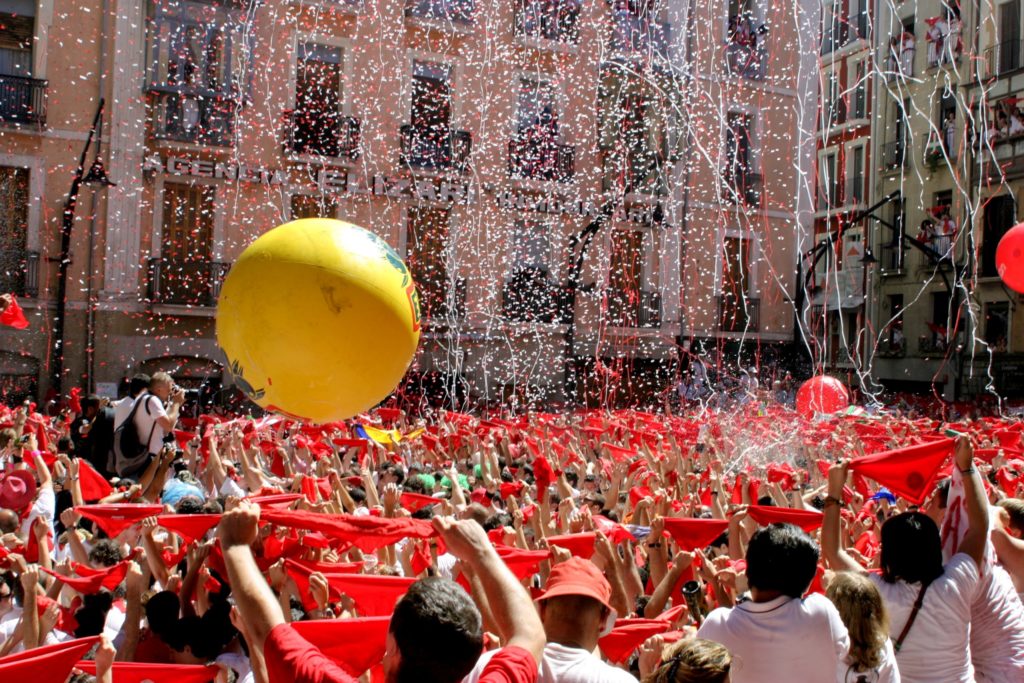 Carnivals 
The Carnival is the maximum expression of the cheerful and smiling character of the Spaniards. Those of Santa Cruz de Tenerife in the Canary Islands are the second most important after those of Rio de Janeiro. Each year a different theme is chosen and a contest is held to choose the queen of Carnival. The culmination comes from a great display through the streets lively with music bands, 'comparsas', dances, costumes and, of course, with the queen of the carnival. Your feet will move by themselves to the rhythm of the carnival!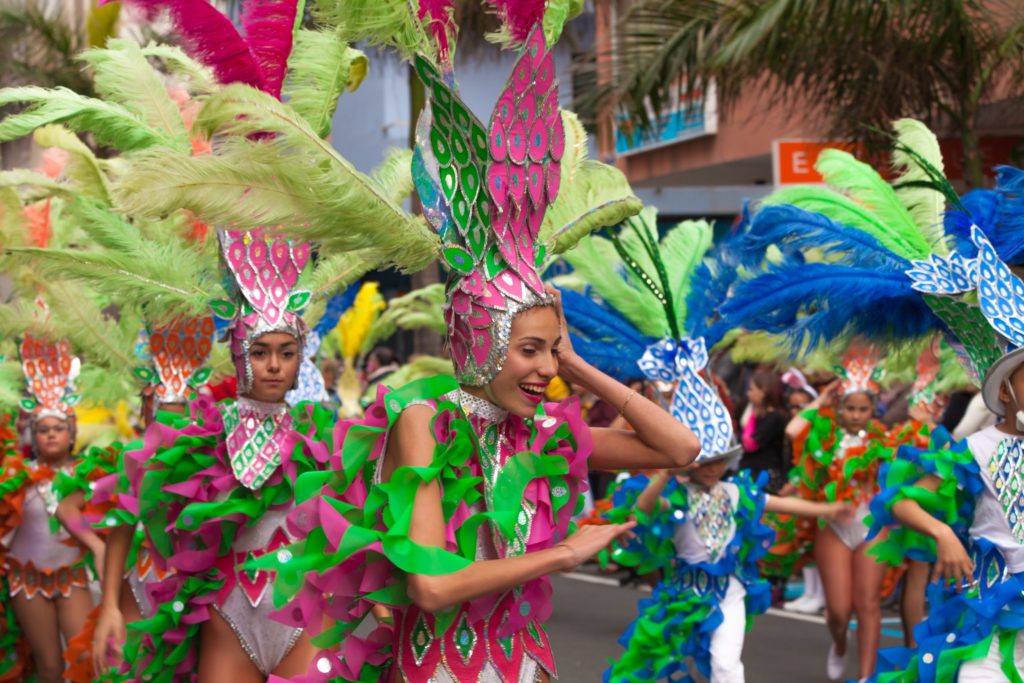 On the other hand, the Carnival of Cadiz has a great recognition in Spain. This festival brings together in a competition different groups of musicians in the Gran Teatro Falla disguised to perfection according to the theme of their performance. Social criticism, humour and emotion are used by these groups. The most curious thing is that these groups are usually formed by bakers, electricians or pharmacists who don't dedicate themselves to music but once a year they bring out all the art they have inside! Every February Cádiz brings together thousands of people who follow the competition but also enjoy the street performances, the music and the gastronomy of Cádiz. Come and join this party, your smile will thank you!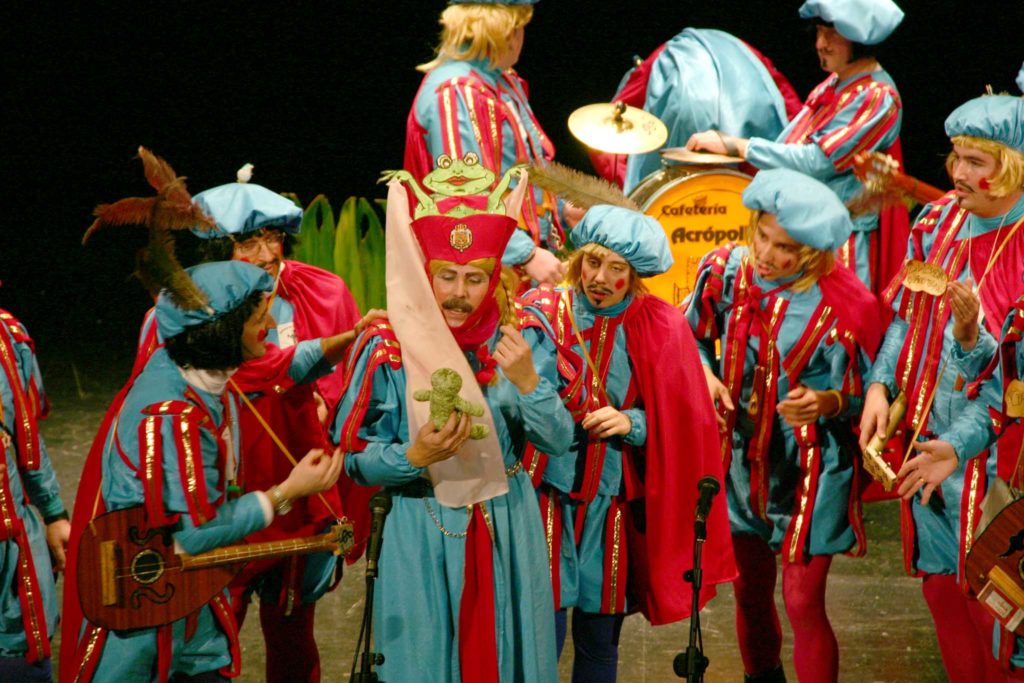 Easter
It is a Christian festival that is characterized by taking out the so-called 'pasos' or structures with representations of moments in the life of Jesus Christ. On the road they take from the churches they are accompanied by the so-called Nazarenes dressed in tunics and hoods. It is an festival of internationa attraction, no matter what religion you are or even if you do not identify with any one, Holy Week will envolve you with its atmosphere, its scent of incense and the beauty of its 'pasos'. Knowing the traditions of a country is the best way to understand it!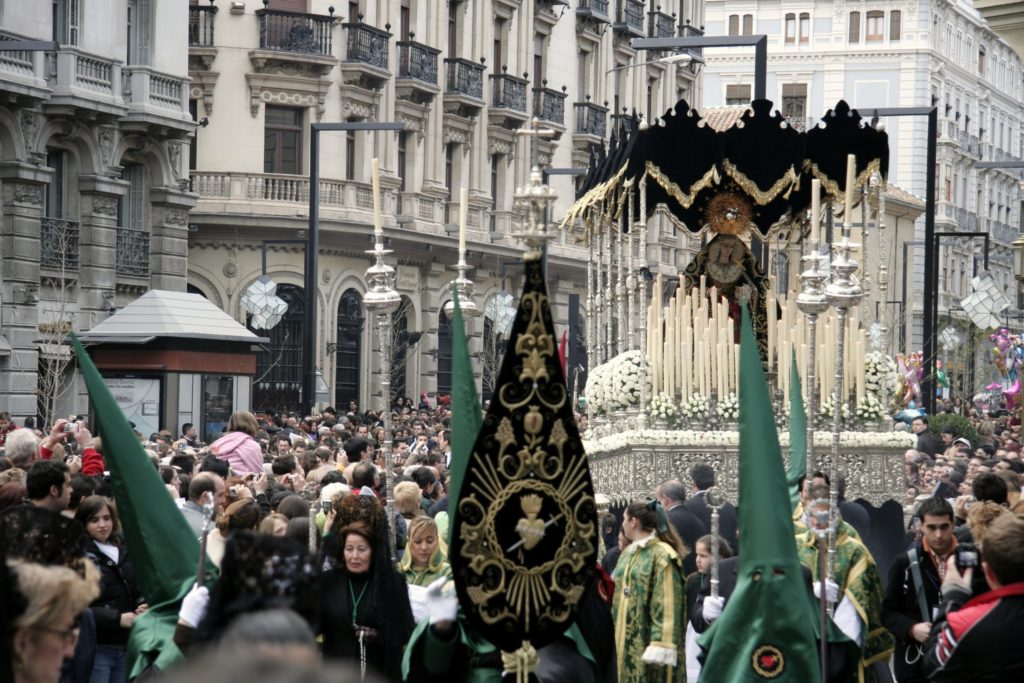 The Fallas 
From 15 to 19 March Valencia celebrates the Fallas. This festival is unique and can be affirmed by the almost three million people who gather each year. During these days the streets of Valencia become art museums with giant dolls made with combustible materials that will be burned. These dolls or also called 'ninots' usually have a critical background and their burning on the last day symbolizes the arrival of a new cycle. However, every year, two "ninots" are pardoned and kept in the museum. Such is the passion that the next day, the 'falleros' already start working on their next creations! But the Fallas are many more, they are also a combination of pyrotechnics, music, tradition that is reflected in the typical costumes of falleros/as and in their gastronomy. Are you going to miss it?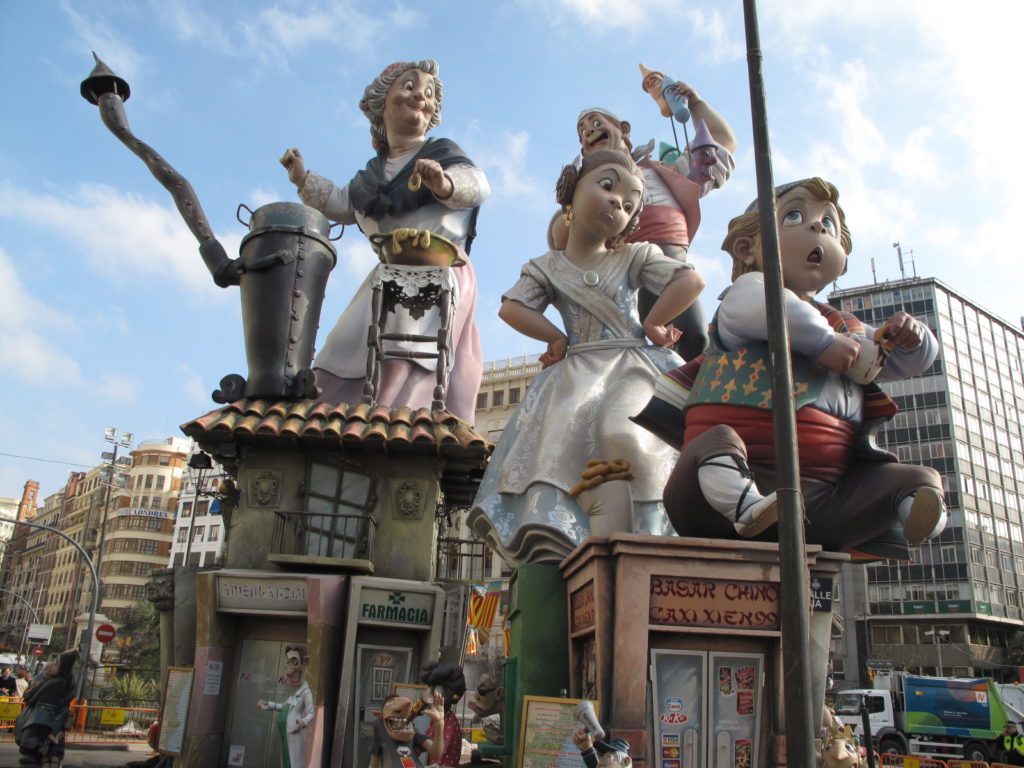 Descent of the Sella 
The dugout canoe descent the river Sella in Asturias has become so popular that it has been declared an International Tourist Interest. Both professionals and beginners take part in this sporting activity, as well as all the public who are willing to go on this adventure that takes place every August. Of course, once the 15 km race ends it is time to celebrate it with a party where cider is the protagonist. The International Descent of the River Sella has its origin in Dionisio de la Huerta, who together with some friends made this route in canoe the first time for pleasure. From then on, they tried to improve themselves and unite more and more people until today. And you, what are you waiting for to convince your friend and rent a dugout canoe?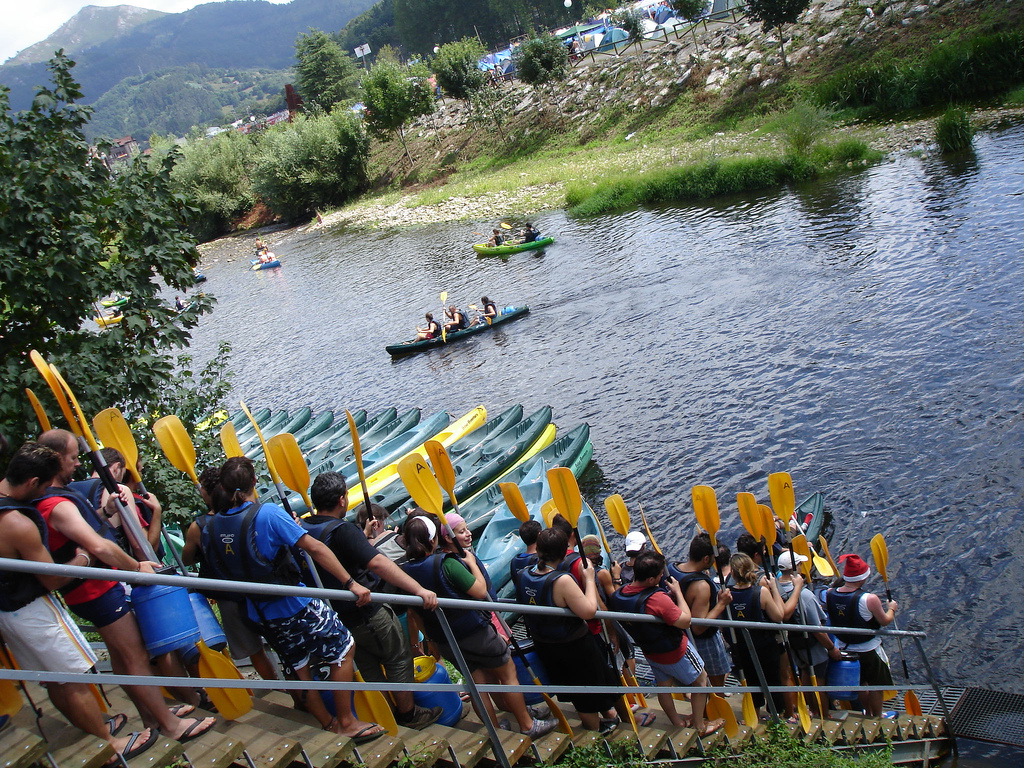 'El Rocío'
More than a million people come to 'El Rocío' in Almonte (Huelva) from the rest of Spain. This is a religious pilgrimage typical of Andalusia, in which the pilgrims travel several days to reach the Hermitage of El Rocio to worship this virgin. The journey takes several days and the assistants usually walk or ride a horse while chatting. At night, to sleep in vehicles called 'carriolas'. But before going to sleep they celebrate small parties singing flamenco, dancing, playing the guitar and drinking around a bonfire. They say that the one who goes one year repeats all the following ones!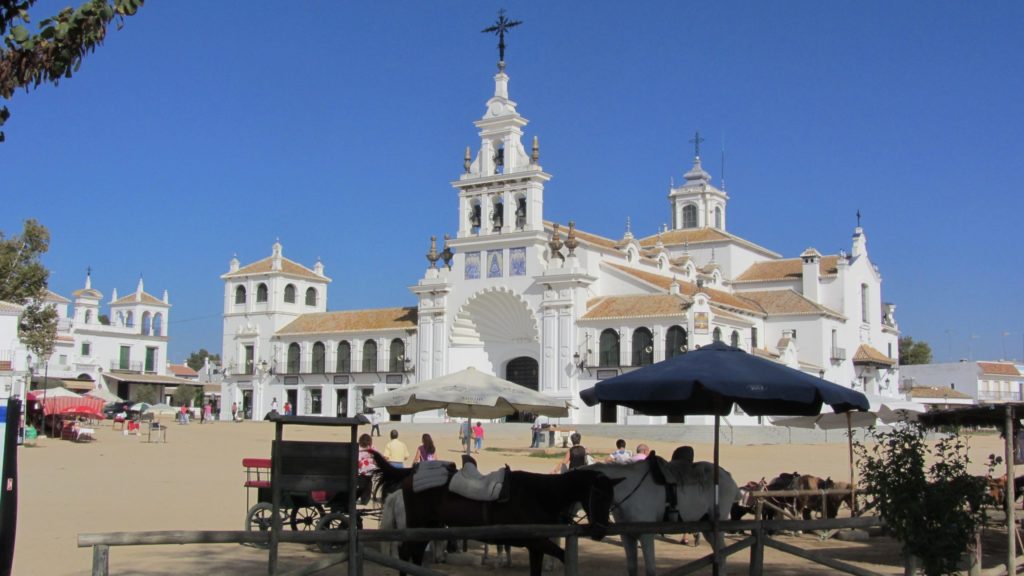 The tomatine
In August, the Valencian municipality of Buñol celebrates the popular Tomatina. Several trucks flood the streets full of people throwing tomatoes. But don't worry, they just throw away the surplus that doesn't meet the requirements of the national market and crush them beforehand so that they don't do any harm. From there begins a battle in which participants throw tomatoes at each other for an hour. Don't forget your gloves and protective goggles!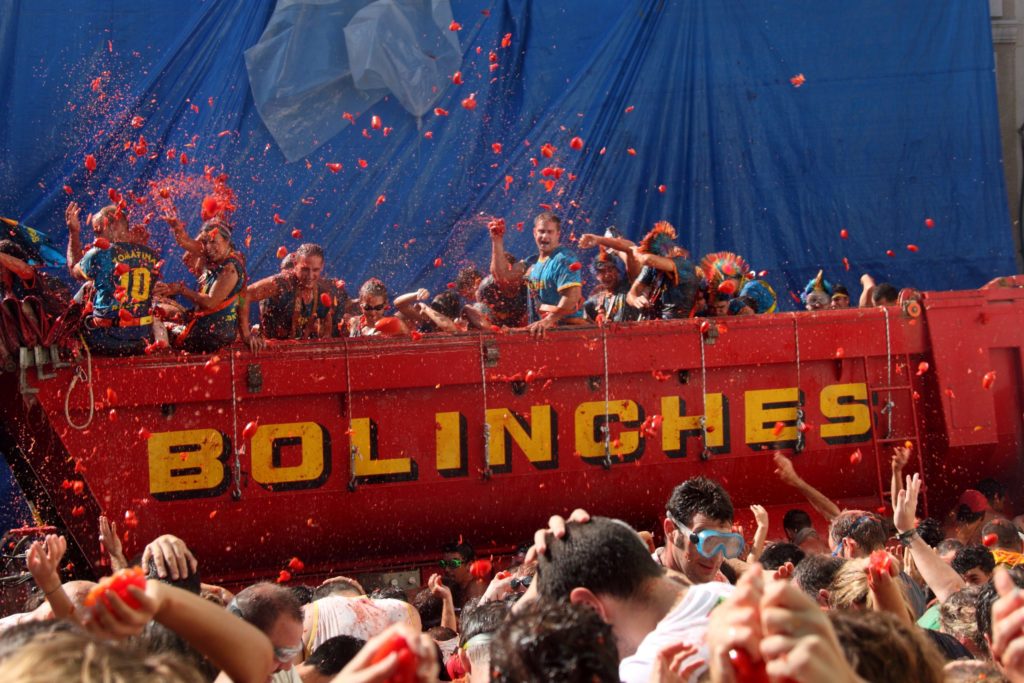 ---
Are you new to Spain and looking for a reliable company to receive and send money to your loved ones?
Moneytrans is perfect for you!
We operate in Belgium, The Netherlands, Spain, Italy, U.K., Bulgaria, Rumania and the Democratic Republic of the Congo, and we have positioned ourselves as leader in the international transfer sector.
✔20 years of experience: More than 45 million transfers carried out thanks to the security of a mature and stable company.
✔Excellent rates: 45 million transfers carried out thanks to the security of a mature and stable company.
✔Safe transfers: We continually invest in technology to guarantee the security of your transfers.
✔Transparency: There are no hidden costs! We always confirm the charges and commissions applied when you make your transfer.
✔Best attention: By telephone, e-mail, chat or social networks…..You will always find our best smile!
✔Infinite alternatives: Transfer from our agencies or online in a matter of minutes and receive it however you wish!
Discover Moneytrans and all the services we can offer you! We are more than just a money transfer company!