You are a foreigner in Belgium, and you want to open a bank account in Belgium? This article will help you to understand more about bank accounts, payment accounts, debit cards or credit cards. You will certainly find it useful!
How to open an account if you are a migrant living in Belgium?
Opening an account in Belgium is very important for social and financial inclusion, especially if you are a foreigner, because it opens the doors to several essential services of daily life. Finding a place to live, receiving a salary or social welfare benefits are all actions that can be very difficult if you do not have a payment account or a current account.
1. Main financial services you will need to live in Belgium
As a migrant, you need some essential financial services to live serenely in Belgium. It is therefore important to first identify your needs and the financial institution that will help you meet them.
The needs of a migrant differ in some ways from those of a native. Therefore, every foreigner needs at least the following financial services:
A payment account or current account
The payment account will allow you to manage your finances wherever necessary (for rent, bills, shopping, transportation, etc.). Having this type of account, such as the Moneytrans Smile Account, guarantees you financial stability to ensure your future peace of mind.
A debit card
A debit card is a payment card that charges or 'debits' your account directly when you make purchases or withdraw money. The amount is immediately withdrawn from your account and transferred to the merchant's account.
This card complements your payment account and is useful for accessing your current account directly when you make purchases.
Money transfers
As a foreigner, sending money to your family is an important need. There are several institutions that offer this service, and with Moneytrans you can do so in over 140 countries worldwide in complete security.
It is therefore essential to choose a trusted institution that will accompany you step by step; something Moneytrans has been doing for over 20 years now. The coexistence of this money transfer service with the current account Moneytrans provides you with will allow you to benefit from a lot of valuable advantages that will make your daily life easier.
Others (mobile top-ups, bills payment)
Keeping in touch and hearing from loved ones is also important. So being able to recharge their phones abroad instantly allows them to recreate a closeness despite the distance.
In addition, Moneytrans offers the possibility to pay both local and international bills. This means that you no longer have to worry about paying your or your family's bills abroad.
2. What is a payment account or current account?
The payment account is exclusively dedicated to payment transactions and can be issued by a payment institution like Moneytrans. For a foreigner, the current account is essential for the financial management of everyday transactions such as paying for purchases in shops and online or making cash withdrawals from ATMs.
The payment account, also known as a current account, therefore provides access to a debit card or payment card, which is quite distinct from a credit card. Although both allow you to make transactions online or in person, the debit card protects you from the risk of overdraft. Unlike a credit card, which allows you to 'go below zero' and therefore incur a debt that you must repay with interest, a debit card only uses the funds available in your account.
3. Types of accounts
There are different types of bank accounts that vary according to their nature and use or the number of account holders.
Based on their nature:
– The current account: it is a bank account with access to a payment card for daily transactions. A current account like the Moneytrans Smile Account allows you to manage your daily finances (transfers, withdrawals, salary receipt, etc.). This type of account can be issued by non-banking institutions like Moneytrans, which are licensed as payment institutions.
– The savings account: this is a bank account that you use to build up a reserve of money. It is therefore permanently available to cover unforeseen expenses or to finance your projects.
– The deposit account: this bank account obliges you not to touch your money for a period that generally varies from 1 to 10 years, in return for which you are paid interest.
– The securities account: this bank account is mandatory if you want to be able to invest in the stock market and place orders on the financial markets.
Based on the number of holders:
– The individual account: for a single account holder.
– The joint account or common account: for several users of the account.
4. What is a bank-free account?
A bank-free account, such as the Moneytrans Smile Account, is a payment account issued by a non-bank financial institution. It is therefore a non-bank current account, ideal for those who want to benefit from a local service fully adapted to their needs and far from the hassle sometimes associated with traditional banking services (reduced hours, limited networks, rigidity, etc.).
Depending on the financial institution you choose to open your current account, you can benefit from additional advantages linked to the different services offered. For example, preferential rates for money transfers at Moneytrans or the hyper-proximity of services made possible by a large network of branches.
5. Comparison between the bank account and the bank-free payment account
Banks are not known for their flexibility, nor for their foreigner-friendly offers. Indeed, they often fail to take into account the particular aspects of a migrant's life and to integrate them into their service offer. For example, to open an account in a bank, you may need to provide proof of income, which does not facilitate financial inclusion, as you often need an account to receive your first salary – it's a case of the snake biting its own tail!
Fortunately, Moneytrans' payment account, the Smile Account– caters for foreigners by offering them suitable access to a range of essential services, including sending money to their families. In addition, the account is connected to a Mastercard debit card, which guarantees a fully secure service through an extensive global network.
6. Benefits of a Mastercard
There are many advantages to the debit Mastercard:
Use the same payment system as the Mastercard credit card;
Pay anywhere in the world;
Keep your money safe when travelling;
Pay securely online with Mastercard SecureCode™;
Cash withdrawals at most ATMs;
Nearly 36 million acceptance points worldwide.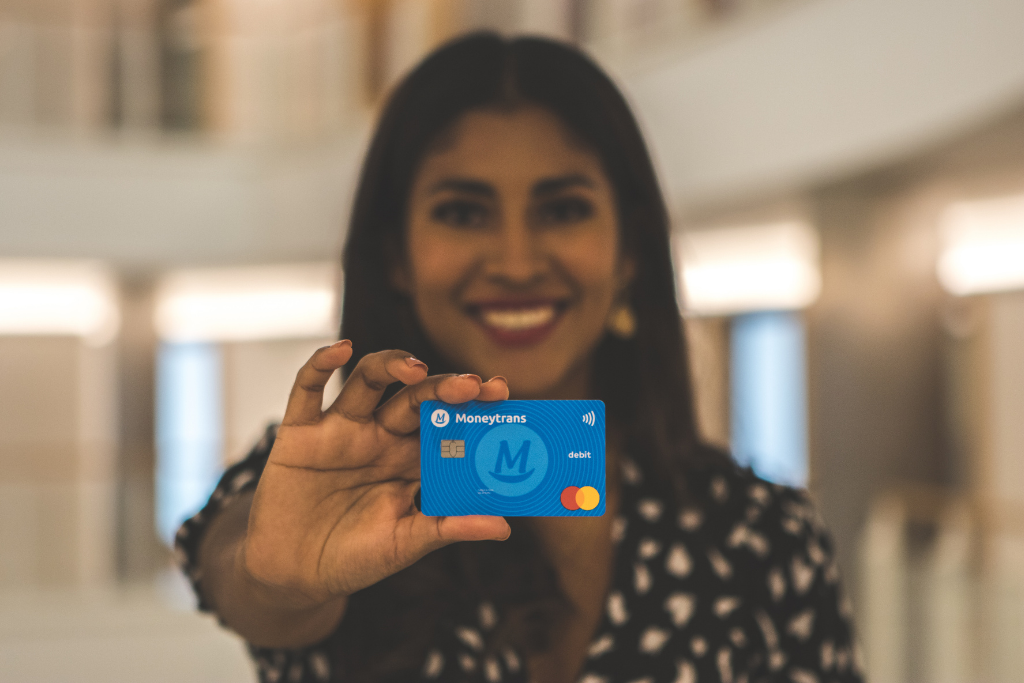 7. Smile Account: How to open a bank-free account and get a free Mastercard?
We've seen how essential a payment account is for a foreigner in managing his daily needs.
By opening a Smile Account with Moneytrans now, you will get a Mastercard debit card completely free of charge.
In addition, you will be able to manage your account efficiently online without leaving your home and even benefit from special rates on other services offered by Moneytrans. This current account was created for the diaspora, for foreigners who lack a service adapted to the different aspects of their lives.
Opening a Smile Account is very easy and only takes a few minutes online or at any Moneytrans branch. However, you will need to make an initial deposit of at least €5 to activate your account. Don't worry your money is immediately accessible in your account. Currently, if you open your account when sending money to a branch, Moneytrans will pay up to €5 directly into your account.
Unlike a traditional bank, Moneytrans has a wide opening hours and staff who speak your language. So, you can choose to be greeted with a smile by one of our trusted operators or enjoy our online services from the comfort of your home.