If you're thinking of sending money abroad, you're probably wondering what options are available to you: sending money by Correos is illegal if it's in a package, although there are legal and safe alternatives available to everyone. Read this article to know more.
Can you send money by Correos?
It is not advisable to send cash by post inside a letter or parcel because, as we have explained, not only is it not legal, but you risk the letter or parcel not arriving at its destination, which would result in the loss of the money.
Correos, the Spanish public postal company, offers its customers different alternatives for sending money to another person, divided by geographical sending area:
National money order: only available for sending within Spain and to Andorra, with a maximum amount of €3,000. Depending on the type, ordinary or immediate, the money will take between 3 and 5 days to reach the recipient's account or address, or it will be received immediately.
Eurogiro: the recipient will have the money within 4 to 6 working days, provided that the amount does not exceed €2,499.99, the maximum amount to be sent. The cost of this service is €5.75 with a commission of 1.25% of the amount sent and on the Correos website you can consult the list of countries where the service is available, some of them outside Europe.
Urgent International Money Order (Giro IFS): this option is available for certain countries that do not include the Eurodraft and has, upon payment, an urgent option in which the recipient has the money in 15 minutes.
Western Union: allows you to send and receive money from a post office, although there is a cost for sending and currency exchange fees.
Alternatives for sending money to other countries
There are other alternatives for sending money abroad, which we will outline below:
Banks: nowadays, almost all banks have the option of making international transfers, although it is usually an expensive service, both in terms of the transaction itself and the currency exchange rate applied. It usually takes between 1 and 5 working days for the money to be available.
Cryptocurrencies: although the transfer is secure and in real time, through blockchain technology, cryptocurrencies are highly volatile products that do not have an international regulator and therefore require a high level of expertise to reduce the risks involved.
Informal shipments: this includes all those shipments that are made through friends or relatives who will travel to the destination country and undertake to deliver the amount sent there. Although they do not usually involve extra costs (everything depends on the private agreement with the person who is going to travel), it is an extremely insecure method, as there is no contract or guarantees that the money will reach its destination.
Branches: remittance companies are one of the safest options for sending money to any country in the world. However, be aware that, depending on the time of day, you may have to wait in line before sending your money.
Is it safe to send money online or through a branch?
Currently, sending money through an agency is one of the safest ways to send money, as these companies specialize in sending and receiving remittances and foreign currency and, therefore, can offer better guarantees and conditions than other ways of sending money.
How long does it take for your money to arrive by this means?
There is no defined period of time, although it is usually very fast: the delay will depend on the countries of origin and destination and the day of the week on which the remittance is sent: the speed of delivery varies between working days, weekends and holidays. Before shipping, it is highly recommended to ask the agency how long the delivery will take.
Get to know the Moneytrans branches and the Moneytrans App
Moneytrans knows how difficult it is to send money, so we offer a full range of services to make your money transfers faster, easier and cheaper.
We have more than 3,000 physical branches from which you can send money in just a few minutes, with total security (as our more than 10 million customers worldwide can confirm) and with the lowest rates on the market. Sending money from a Moneytrans branch is as simple as:
Identifying yourself.
Fill in the form provided by our partners.
Save the transaction code that we will give you.
Communicate the number to the person who has to receive the money.
But if you don't want to go to an agency, no problem, because the Moneytrans app allows you to send money to almost any country in the world without leaving your home. Download our app on your phone and follow these steps:
Sign up for free.
Choose the amount you are sending and the destination country.
Enter the beneficiary's details.
Confirm your identity according to the instructions in the app.
Choose the payment method and make your transfer.
You can track the money until it reaches the recipient from within the app.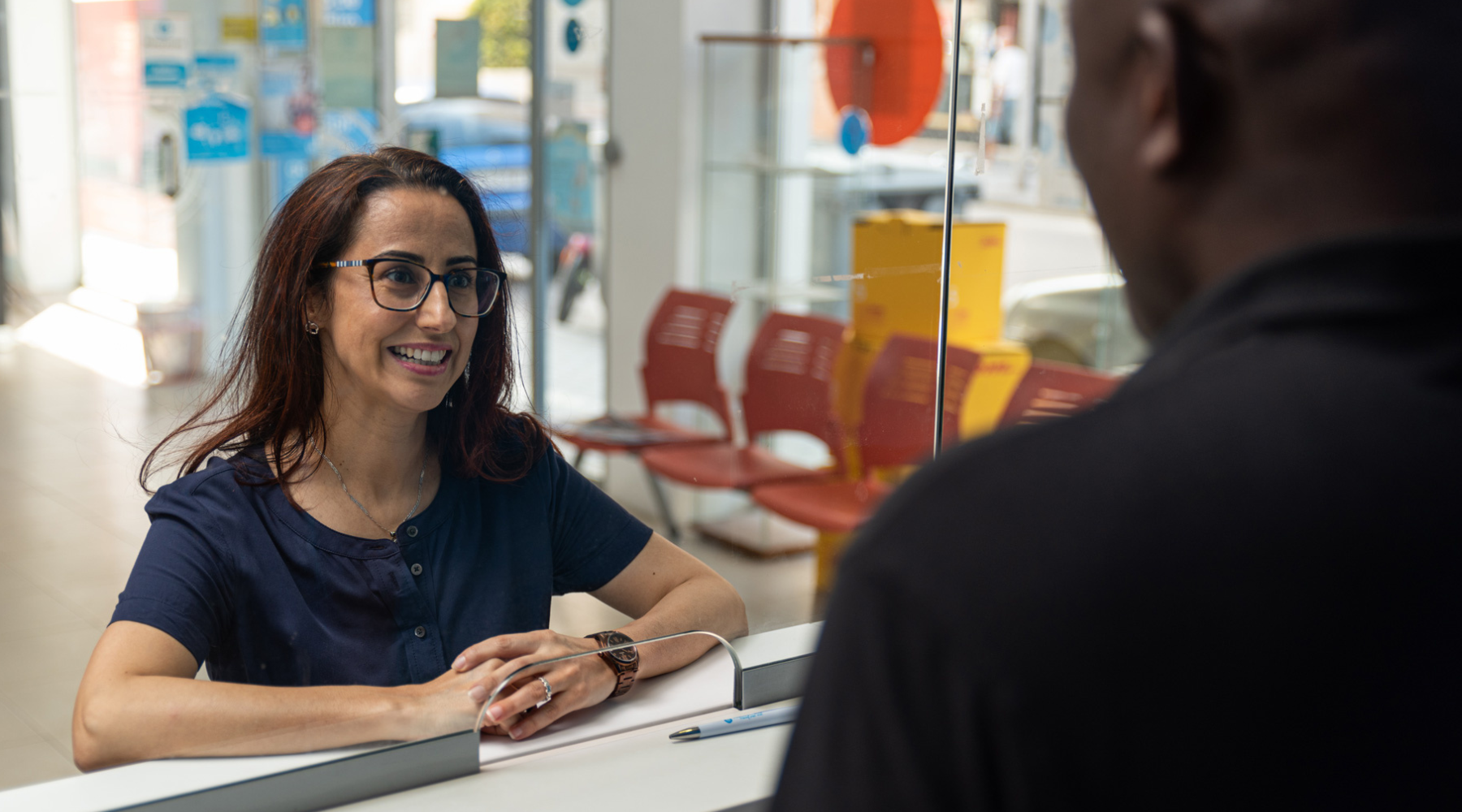 Do you need to send a large amount of money abroad? Call us and one of our operators will guide you in a personalized way so that you can send your money safely, quickly and at the best price.