The Covid-19 pandemic has brought many changes in the world. It has forced us to find new ways of working, socialising and living in general. It created a whole new lifestyle approach.
It has shown us our strenghts and highlighted our weaknesses. It has set new challenges for everyone on a personal and professional level. Although many businesses have unfortunately not been able to make it though this important crisis, it has given opportunity to some to reivent themselves and even increase their revenue.
Since the start of the pandemic in 2020 many sectors have required to digitally transform their services. This has pushed them to adapt their strategy in order to keep on selling or, in some cases, increase sales. This is such an exceptional situation and it is so interesting to look back at how it started, how we have all adapted and what will be the way from this point onward.
What sectors have been affected the most and how they have adapted
The digitalisation for businesses was already existing before the pandemic but it has definitely increased and even helped business stay afloat. Let's look at what sectors have benefited from it: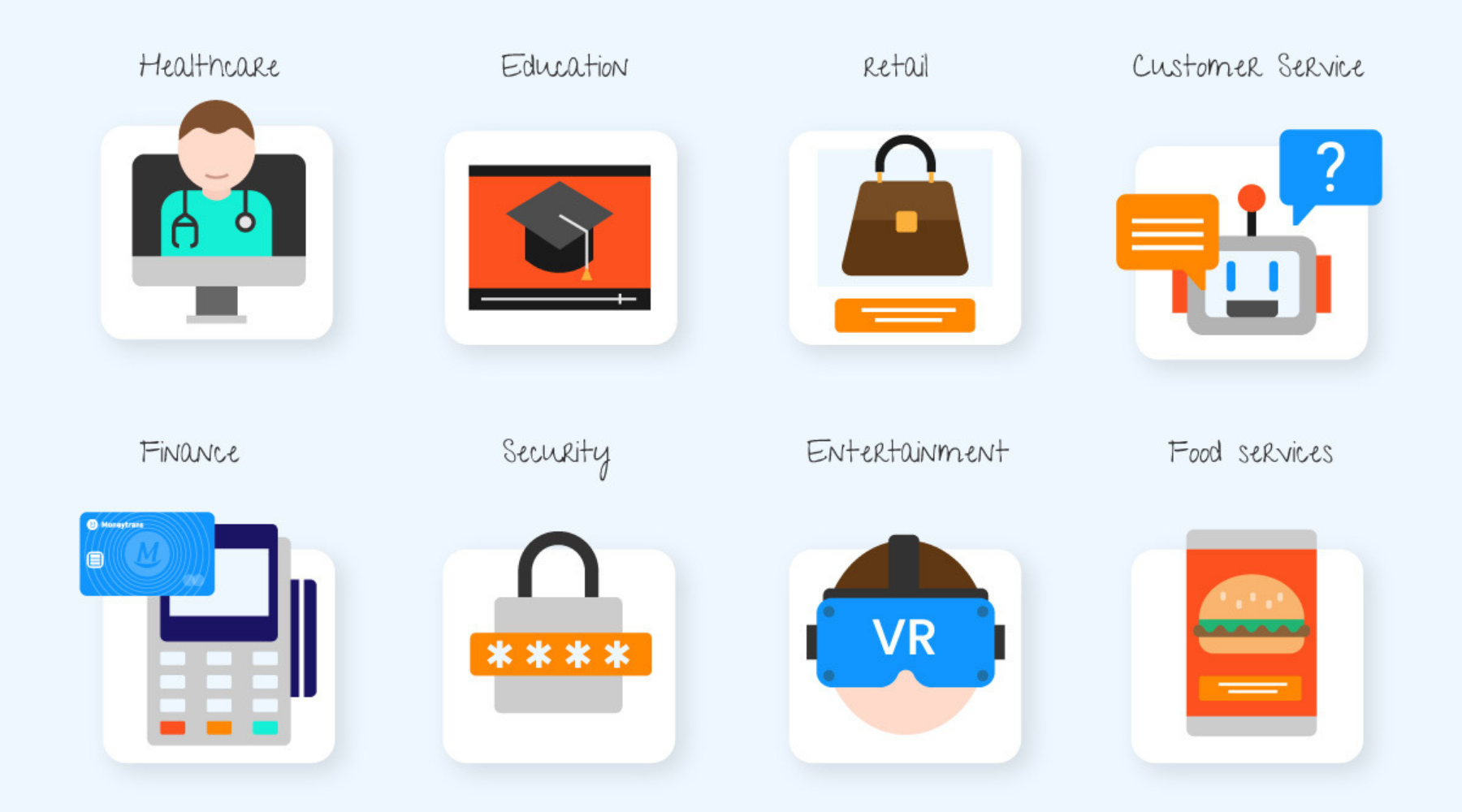 Healthcare: Using VR and data to make care more accessible. Doctors visits have moved on to be virtuals. Studies says that by 2025 telehealth doctor visits will replace the traditional annual visit. As for the fitness, buisness have also adapted to virtual classes and follow ups in general.
Education: Technology and online content make the classroom optional by offering remote learning technology for online courses & content
Retail: If people hadn't converted to shopping online yet, they definitely are now or at least have tried. Grocery shopping joins the e-commerce revolution.
Customer service: Customer experience goes virtual with conversational artificial intelligence and chatbots. The businesses continue to provide the best services for their customer without being physically present.
Finance: Demand for contactless options accelerates digital adoption. The offer of contactless payments has increased as well as branchless banking and parametric insurance.
Security: Higher internet usage and data generation lead to increased investment. Cyber security has never been so important.
Entertainment: "Real world" goes online with virtual reality and virtual events.
Food services: Social distancing propels take-outs and deliveries to success.
Government all over the world have also adapted to the situation and have made sure to adjust time and investement where it is needed. Last year, the European commission has released their digital technology strategy focused on AI and supercomputers to track and fight Covid:
"Digital technologies have never been more important in our lives, and making sure Europe has the infrastructure, the connectivity and the regulations in place to respond to coronavirus and to keep people active and safe online is our mission."
Transformation, adaptation, reinvention
As businesses have adapted and transformed their entire offer in order to keep being efficient, concerns about cyber security and privacy have risen. In the era of digitalisation, these concerns are unavoidable. It is the responsibilty of each company to take action on compliance and risk management.
Expectedly, research shows that advertised roles in the digital tech sector have grown 36% since June.
LinkedIn predicts that there will be 150 million new technology jobs globally in the next five years, and data scientist and data engineer roles in the US are growing by 35% annually.
Here are the top three most relevent areas that have gotten attention in the business sector since the start of the pandemic:
Remote work
The prevalence of telework has varied strongly across sectors and occupations. Whilst it was very common for ICT-intensive service and managers to work from home, for many, this was a totally new experience. Arguably workers with digital skills are in a better position when it comes to this new way of work.
Although this adaptation has come to a real shock for many companies, the reality showed that, for some projects, the efficiency was even better. Let alone the cost savings from a corporate side.
Digital Content Consumption
Home consumers are turning to digital content providers to meet their entertainment needs. 51% of internet users worldwide are watching more shows on streaming services due to the coronavirus, according to data from Statista. Netflix alone saw 16 million new signups for its service in the first three months of 2020.
Omnichannel solution
With the pandemic came the lockdown and parents had to juggle with the joys of remote work whilst taking care of the children at the same time. This left very little time to achieve the daily usual tasks such as pay bills, grocery shopping, etc… Businesses have learnt their lessons and have started to think of solutions to adapt their services into omnichannels platforms. Providing all services in one and only place.
This is how Moneytrans developed their Super app; providing financial services to the residents of foreign origins in one unique platform. Making their lives easier by saving time and money and most importantly: making it possible to manage it from anywhere in the world by implementing the latest digital technology.
While some businesses will revert to their traditional models when the crisis passes, others may opt for a hybrid approach as they recognize the benefits of recurring revenues. In any case it will be interesting to look back in a few years and see what habits stayed and which have gone forever.
Some things are defintely here to stay : remote work, digitalisation of customer service, contactless deliveries, shift to e-commerce, use of online and on-demand platform…