You want to send money to your loved ones and your IBAN has been refused? You don't know how to solve the problem? Learn everything you need to know in a few minutes so that your transfer can be done!
What is an IBAN?
When you open your current account, you will be confronted with the notion of IBAN, especially when you want to make bank transfers. But then, what is the IBAN?
The IBAN (International Bank Account Number) is the identification code of your current account, in other words, its license plate. Indeed, the IBAN defines your banking identity internationally (between the member countries of the SEPA, Single Euro Payments Area). It always contains between 14 and 34 digits depending on the country of origin and allows you to carry out secure international banking transactions.
The IBAN is made up of the country of origin code, a two-digit control key, the eight-digit bank code and your 10-digit account number. For example, if your IBAN is from Belgium, it will take this form: BE XX XXXXXXXX XXXXXXXX.
But where to find your IBAN? The IBAN is systematically written on your account statements, your checkbook or on your financial institution's identity statement. For example, in the case of the Smile Account, you can quickly check your IBAN in the Moneytrans application by clicking on "account":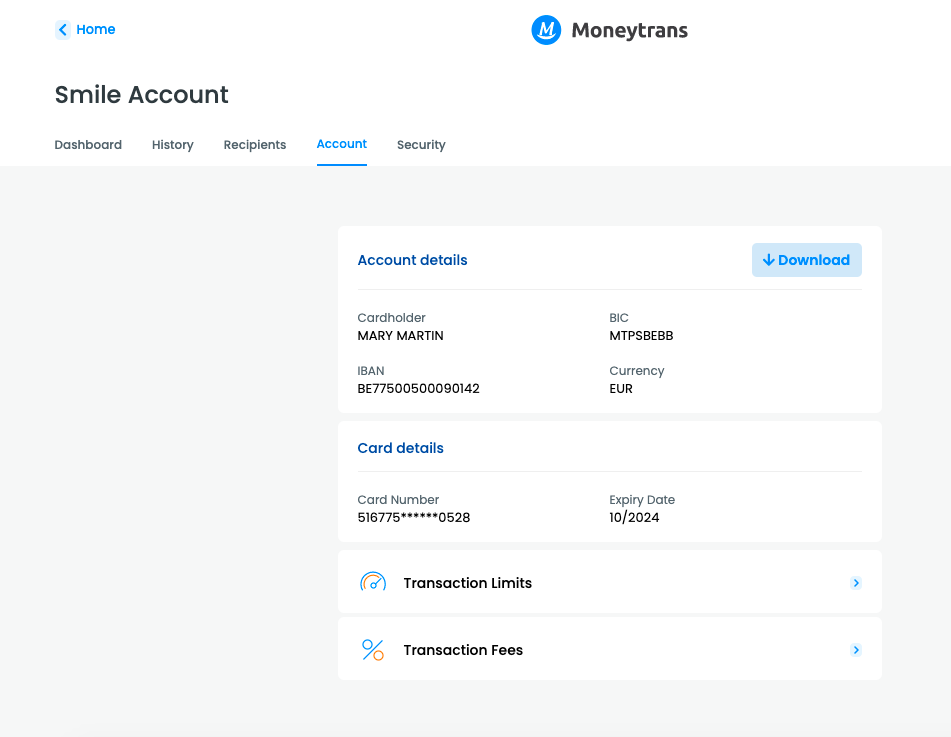 IBAN discrimination
It can happen that your IBAN is refused during a banking transaction for no apparent reason in any country of the SEPA zone. In this case, it is important to know that, according to article 9 of the European directive n°260/2012, the people or company responsible for the refusal (merchants, employers etc.) are violating this exact law. Indeed, if the refusal is based on the origin of the IBAN, the sanctions incurred can be very heavy for the perpetrators.
The question remains, how to identify when you are a victim of IBAN discrimination? Let's take some examples to clearly identify this situation:
If you are trying to pay your electricity bill to your energy company and they refuse you the IBAN because of your origin, it is a case of IBAN discrimination.
If you want to set up a direct debit but the company in concerned refuses because it is not a national IBAN. For example, if you are in Spain and they require an IBAN starting with ES but your IBAN starts with BE (Belgium), for legal purposes they could not refuse your Belgian IBAN.
Finally, the number of characters in the IBAN may vary from country to country but, even if the number of characters in your IBAN is more or less than the national IBAN, they must always ensure that you can enter your IBAN so that you are not discriminated against.
How can this be remedied?
If you are a victim of this "IBAN discrimination", you will have to alert the qualified national authorities to transmit your complaint. To do this, you must follow several simple steps:
1. Write a formal complaint to the person or company that is responsible for the IBAN discrimination and specify what is wrong about your situation.
2. If this complaint is not enough to trigger their reaction, you should write to the relevant authority of your country explaining in detail your situation.
To fulfill your complaint, you will have to provide a few documents:
Your first and last name.
Your contact details (postal address, telephone number, e-mail address etc.).
The name of the person/company responsible.
A short-written summary of the situation.
Proof (e.g. screenshots) of the refusal of your IBAN.
Now you know all about IBAN discrimination! If you need more help, our Customer Service team will be your best ally – contact us!