When you make money transfers to your home country or look for information on how to open a current account, you will have seen the word SEPA. But what is SEPA?
SEPA, or Single Euro Payments Area, enables companies and individuals to make payments simply throughout the European Union. Its aim is to unify the means of payment in euros for all the member countries of the SEPA zone. It consists of a set of standards for direct debits, cards and credit transfers. This makes it possible to standardise costs, simplicity, and security of transfers between member countries.
What is a SEPA transfer?
There are three types of SEPA transfers: the classic transfer, the instant transfer and the SEPA direct debit.
A classic SEPA transfer is a transfer that allows you to transfer your money from one current account, such as the Smile Account, to another in a uniform way at national and European level, in euros. The transfer is carried out within one working day from the moment the sender's bank receives the transfer order. In the same way as for a standard transfer, you can decide to make a one-off transfer (single transaction) or a regular scheduled transfer (SEPA direct debit). In addition, it is necessary to indicate the IBAN and BIC of the beneficiary; if you are not familiar with these notions, here is an article in which you will find all the answers to your questions. If, for example, you want to transfer money between Belgium and Spain, both countries being part of the SEPA zone, the transfer procedures will be the same as if you were making a domestic transfer.
Unlike the classic transfer, the SEPA instant transfer allows the recipient to receive his money in less than 10 seconds and is available 24/7. It complies with the same standards as the classic transfer.
Regarding the SEPA Direct Debit, it allows the creditor to automatically debit the debtor's account for an agreed amount and on an agreed date. This could be for examples such as rent to be paid, electricity and gas bills or a loan to be repaid. This type of transfer is based on a mandate, an agreement between the payor and the sender. There are two types of SEPA direct debits: direct debits for individuals and direct debits for businesses.
What is SEPA for?
Since its introduction in 2008, SEPA has made it possible to make and receive payments in a simple, fast, and secure way. Transfers have been standardised and automated to make the process even more efficient thanks to many innovations in that field.
Thanks to SEPA, you will beneficiate from a wide range of advantages: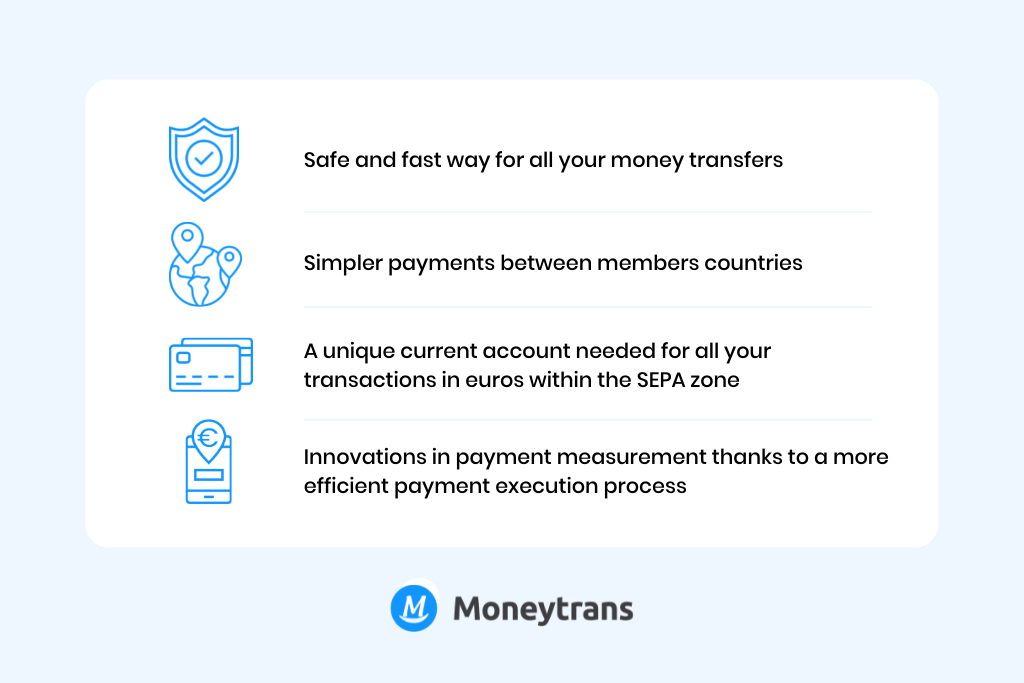 How long does it take to obtain it?
To obtain a SEPA credit transfer, the deadline depends on the type of transfer. Indeed, a classical SEPA transfer will take one working day from the moment the sender's bank receives the transfer order. Subsequently, as its name suggests, an instant transfer will be received almost instantly. When it comes to SEPA direct debit, it will take a maximum of three working days. With Moneytrans, you can now open a Smile Account, allowing you to transfer money quickly and easily.
How much does a SEPA transfer cost?
Transfer fees depend entirely on the financial institution you are dealing with. Indeed, whether you are a sender or a recipient, you are likely to be charged depending on whether this is part of the institution's policy. With the smile account, you will beneficiate from 24 free SEPA transfers per year!
What is the SEPA zone?
Are you a European resident of foreign origin and do you want to know if your country of residence is concerned by the SEPA area? Here are the different countries that make up the SEPA zone: a total of 33 countries, including the 27 member countries of the European Union as well as the 4 members of EFTA (European Free Trade Association), the United Kingdom, Monaco, and the Republic of Saint-Martin. Indeed, this represents the area in which these standards apply.
Money transfers with a Smile Account ?
With your Smile Account, you can send and receive money quickly and easily. Indeed, you can send your money to another SEPA member country in a few seconds thanks to instant transfers. In addition, you can manage your finances by logging on to our website or visiting one of our agencies.
Fortunately, your transfers will not be limited to this zone. Indeed, the Smile Account allows you to send money to dozens of other international destinations. Moreover, by opening this current account, you will get a free Mastercard and a RIB, allowing you to finally take charge of your finances in a simple and transparent way. The Smile Account, an account that finally takes you into account!