Let's build the future together! 
Join a fintech with 20 years of experience and a startup heart ❤️️
A family that seeks to revolutionize an entire industry around values ​​as important as inclusion and equality of opportunities.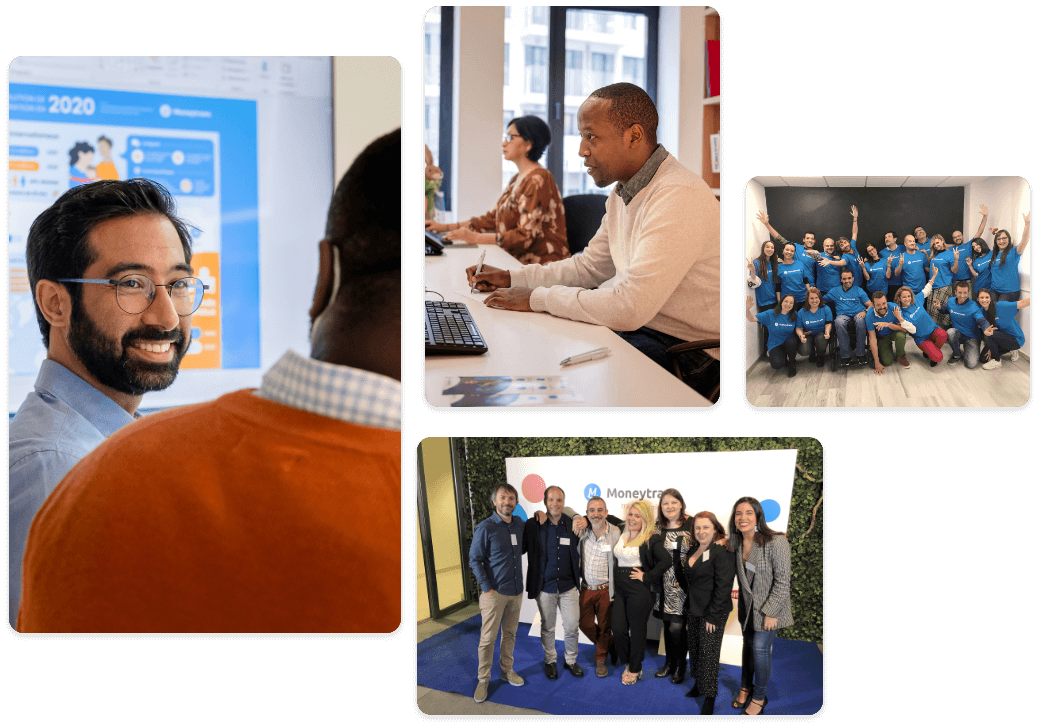 At Moneytrans we're constantly growing, developing new products and services and creating opportunities for all. That's why we love to meet talented people.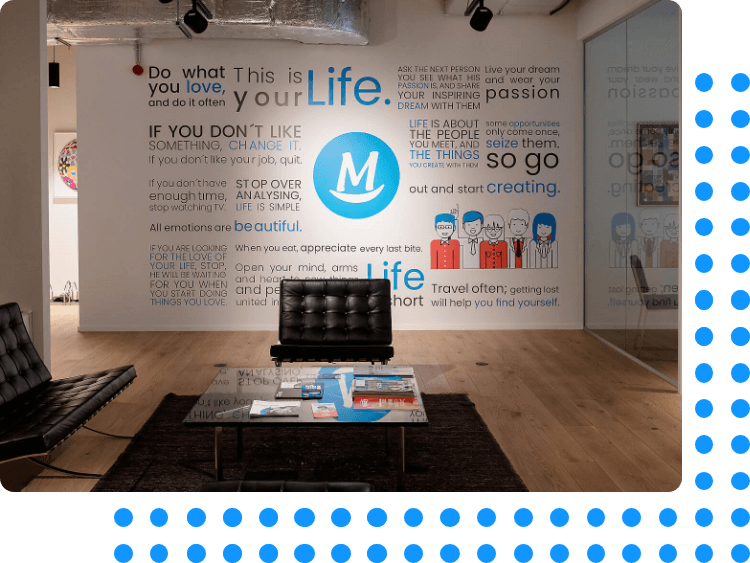 Here at Moneytrans we're more than a team; we're a family. And our mission is to create a better world. We're more than 400 people with 50 different nationalities. Four hundred curious, dedicated people, open to new challenges. And, most of all, we believe that our differences make life richer!
We also believe in opportunities and internal promotion for our staff. And because of this we feel proud to have changed and improved the lives of many people who are part of our family.
If you're passionate about the world of remittances and personal relations, if you're an enterprising, responsible and honest person, if you have experience and want to grow professionally, we'd like to meet you!
Want to be part of the adventure?
At Moneytrans we're proud to be a 100% multicultural team. We're from all over the place! You'll hear Spanish, French, English, Arabic…. even Málaga dialect! And we love it. Differences make life richer!
A culture of collaboration ▼
Our work dynamics also give rise to synergy between departments. So every area can count on the support of the others. Here everything adds up to one. We're all working for the same goal.
We believe in internal promotion ▼
At Moneytrans we believe in people and opportunities, and that's why we want to multiply our team's potential! We believe in internal promotion, so we pay particular attention to training.
We believe in opportunities ▼
Because we believe in opportunities, at Moneytrans we have a number of workers and partners who began in a specific post and have evolved over the years to reach the top.
A team that keeps growing ▼
At Moneytrans we feel proud of our team, our family. It's a family that has continued to grow in recent years, thanks to our recruitment campaigns. Our forecast: more growth. Are you on board?
As a team we're young, flexible and dynamic; we like people who are genuine, motivated, passionate and keen to change the world. A team that believes cultural differences add value and never subtract.
We all give our very best, because we care about our sector and our mission. We know we're helping to make life better for many people, and that's why we put in 200% effort every day.
Here we feel at ease, we dress informally, wear fancy dress for Carnival, sign up for viral challenges; we love to laugh and joke. In short, we enjoy our work!
At Moneytrans we're more than a team; we're a family. Here everyone knows each other, we share cake on our birthdays, we celebrate Fridays together and we're always here for each other when the going gets tough.
At Moneytrans our work is based on synergy, and it's always horizontal. Here the management believes in their team, and vice versa. We're all equals, and new ideas are always welcomed.
Because we know that work isn't everything, at Moneytrans we prioritise the work-life balance. Working hours are flexible, because every person's situation is different, and we believe it's important to respect that.
Those who come to us stay with us! ▼
At Moneytrans we can boast of having the lowest staff turnover in the business. People who come to Moneytrans… stay on! Some of them have been with us from the start, more than 20 years.
Belgium
Palatium Building Boulevard de Waterloo 77 (Boîte 01), 1000 Brussels.
France
86 Rue de la Pompe, 75016 Paris
Italy
Viale Monza 1, 20125 Milano (MI)
Spain
Mauricio Moro Pareto 2, Floor 4, Office 1, 29006 Málaga.
Netherlands
Moneytrans B.V., Beursplein 37-1264 (WTC), 3011 AA Rotterdam.
Turkey
42 Maslak, Maslak Mah. AOS 55 Sok. No 2 Kat 10 Ofis 04-05 Sarıyer - Istanbul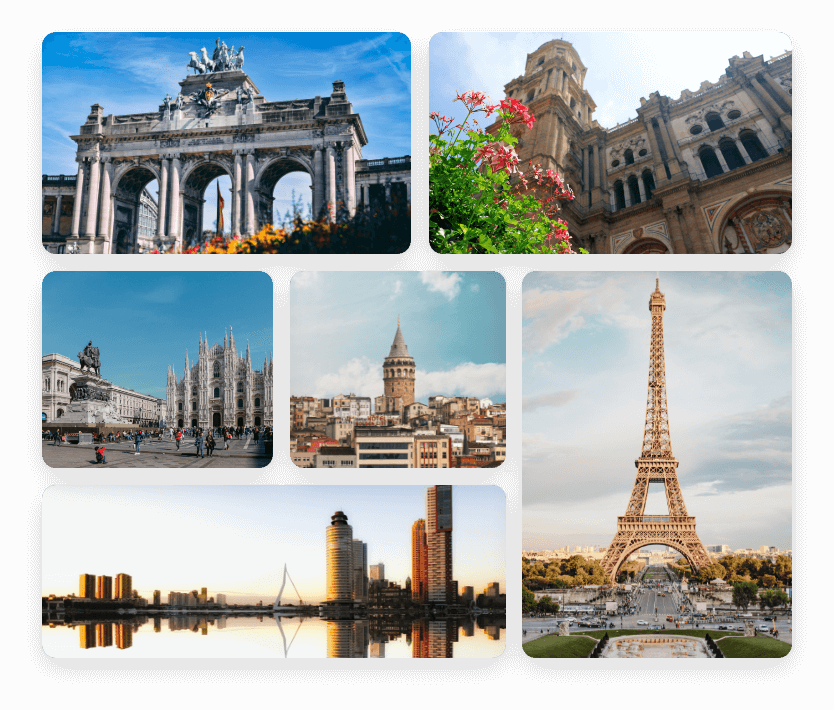 What does our team think?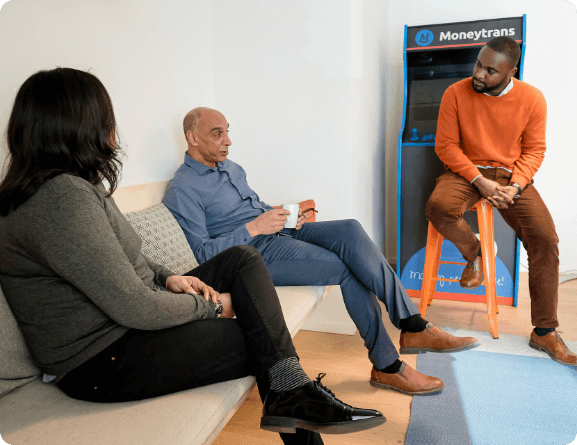 "Our team is our success! The past 20 years are the product of a team that has given the very best of itself. It wouldn't have been possible without every single person in the team."
"With our work we spread smiles all over the globe every day, and we're doing our bit to achieve a better world. Could anything be more satisfying?"
"At Moneytrans, we hear new stories every day about our customers' lives. And from the Call Centre we try to make things easier for them. It's really motivating to see what we can do to help a person who's working for a better future for their family!"
"Since I've worked at Moneytrans, I've seen the marketing team grow, and thanks to that we've been able to progress and embark on new projects! I've learned so much about our customers and colleagues, with their different cultures and customs. I love working in a multicultural team!"
"As a migrant myself, I know the importance of the service we provide. Working to develop new products for our customers and improving the services we offer makes me feel proud and motivated in what I do."
If you look for your dream job in a fast-growing industry
If you are passionate about technology
If you're ready to roll up your sleeves and take responsibility
If you are open, creative and full of ideas
If you like to work independently and flexibility
Check out our job offers! You could find your happiness there
Join us and let's build the future together!
If you have the talent and dream of doing big things, there may be a place for you at Moneytrans.
Want to be part of the adventure?