Many ask themselves about the importance of image in the workplace, and that is that, as the saying goes:
an image says more than a thousand words!

There are many attributes that contribute to the formation of the personal image, including our attitude, behavior, the tone and volume of our voice, our gestures and the smile with which we arrive at the office each morning. The appearance we project is more than a visual image, it is a true element of communication.

Today we are going to demystify some statements about the image and share our secret to make more than 5 million clients fall in love!
1- Is there a recipe for a good professional image?
There is no prototype of a professional image, everything is a matter of credibility and coherence. Image is not just appearance; it is also verbal expression (7%) and non-verbal (38%). For a company, the brand image is the feelings and emotions that the company causes in its customers.
Last year we released a new image at Moneytrans; we dared a change because we are no longer the same company we were 20 years ago and we wanted Moneytrans to reflect everything we are today, innovative, expert, authentic, optimistic, close and solid. These personality characteristics define the people in the Moneytrans team. Our brand had to be transmitted.
When a team grows it is important to reaffirm its commitment and ensure that consistency continues to exist. As our customers, our agents and our partners perceive us, it is not only the responsibility of the management and the marketing department; each and every one of the people who make up the Moneytrans team has the same responsibility.
2- Is taking care of your image being superficial?
Image is not just physical appearance. There is often prejudice around having an interest in taking care of your image, considering it as something superficial. This denotes a great ignorance, since taking care of and working on our image has the advantage of helping us to communicate. It is evidence that human beings are tremendously prone not to interpret reality based on rational and calm analysis. Among these cognitive biases, one of the best known is the halo effect, which consists in the realization of an erroneous generalization based on a single characteristic or quality of an object or a person. That is to say, we carry out a previous judgment from which we generalize the rest of characteristics.
One can say that one doesn't believe in the importance of the image, but everything we say and do communicates something about ourselves, there is no way to avoid projecting an image. So it's better to make sure that what we project is consistent with who we are.
Today, the quality of services in the financial sector and particularly the sending of money is quite similar; what differentiates one company from the other are the emotions, feelings and values that we transmit through our brand image and through the image of our teams.
At Moneytrans we want to offer much more than just sending money; we want to offer sensations, experiences and solutions. We want to make our customers, our agents and our partners fall in love. We want to spread smiles all over the world. To achieve this, we begin by making an effort every day to be the best version of ourselves as professionals. Nowadays, it is important for us to be recognized as the closest and most decisive in the sector.
3-

Attitude

, 

the

 

determining

 

element

 

of

 a 

good

 

image

 
As Victor Küppers says, ability and knowledge are nothing without attitude. Attitude is that disposition, that will, that rational decision to act in X way. Cordiality, passion, positivism, enthusiasm are some of the attitudes we encourage at Moneytrans.
But to have a good attitude is a constant work since our own nature leads us to have certain harmful tendencies at group level and that generate inefficiencies in teamwork. The awareness of these inefficiencies are what allows us to establish guidelines and commitments to correct them, so that our team is productive, with good results and keep a harmonious environment.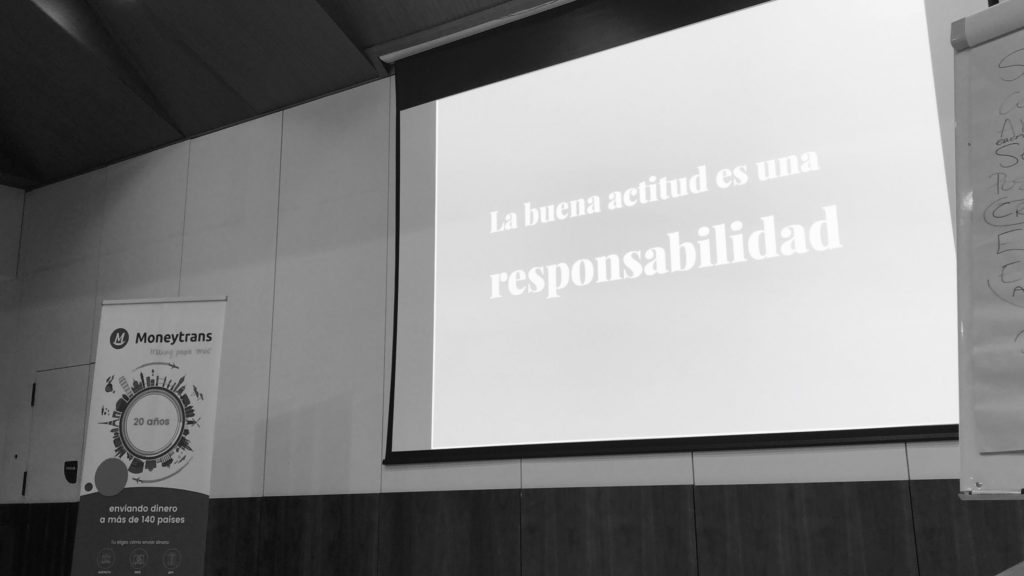 4- Together towards success
[mkd_blockquote text=" "Reunirse es el comienzo, permanecer juntos es el progreso y trabajar juntos el éxito". – Henry Ford, founder of Ford Motor Company " title_tag="h2″ width=""]
Good teamwork is part of Moneytrans success; from the beginning, the interests of the group take precedence over individualities, and that increases commitment and fellowship.
Our Team Building activities, for example, encourage this spirit and emphasis on the importance of communication to achieve common goals.
On Saturday, we spent the day in the company of the talented Andrea Vilallonga, reaffirming the importance of the image, good attitude and communication of each and every one of us.
Because WE ARE Moneytrans and because our customers, our agents and our partners deserve that we make an effort every day to offer them the best.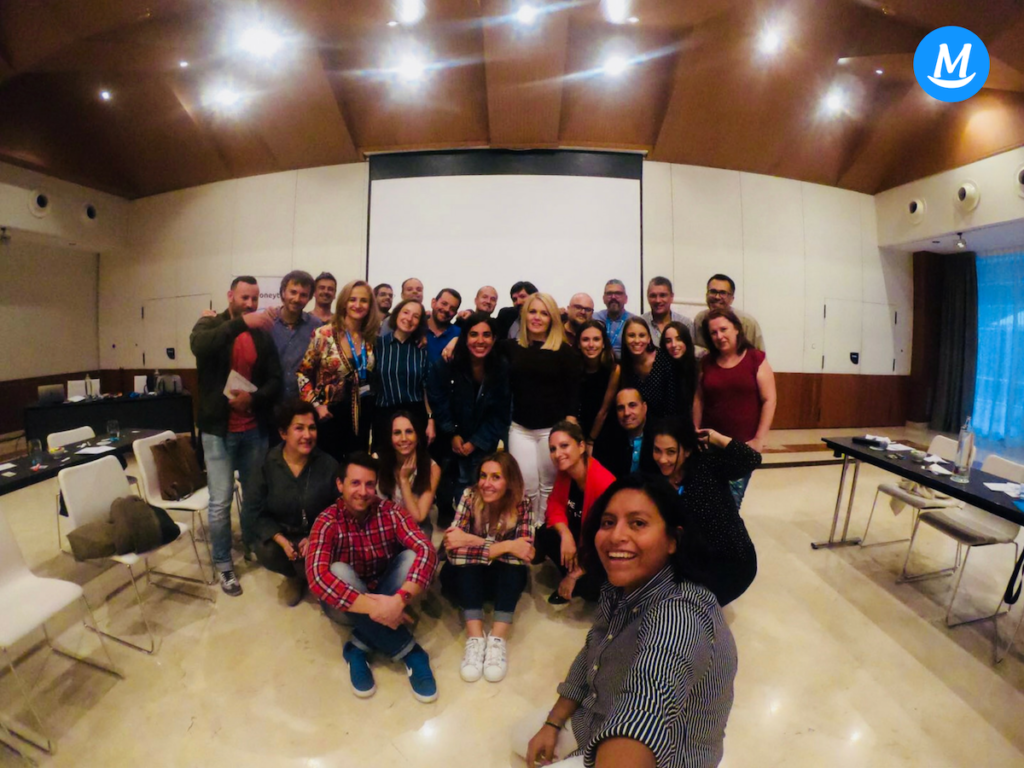 "After the Team Building we had on Saturday, I began to understand why from the day I joined the company I noticed so much motivation and good vibes in the Moneytrans team. They educate us on the importance of empathy, of always keeping a positive attitude, and of actively listening to our agents, customers and wormates; because the people who form the basis of the company really do this.
We are given opportunities for growth and we know that, if we put enthusiasm into it, our work will be recognized by the rest. Here is the importance of compliments, the positive comments that motivate us to continue giving our best! And we also know that they listen to us because the teams are increasing so that the workload is in line with the continuous growth that the company is experiencing and that, in this way, does not affect the quality of care of our agents and customers.
And what would Ihighlight about Andrea Vilallonga's talk? The concept of FAMA: Flexibility, Mental Agility and Adaptability in the face of changes and unforeseen events". – Isabel Guerra, Marketing workmate.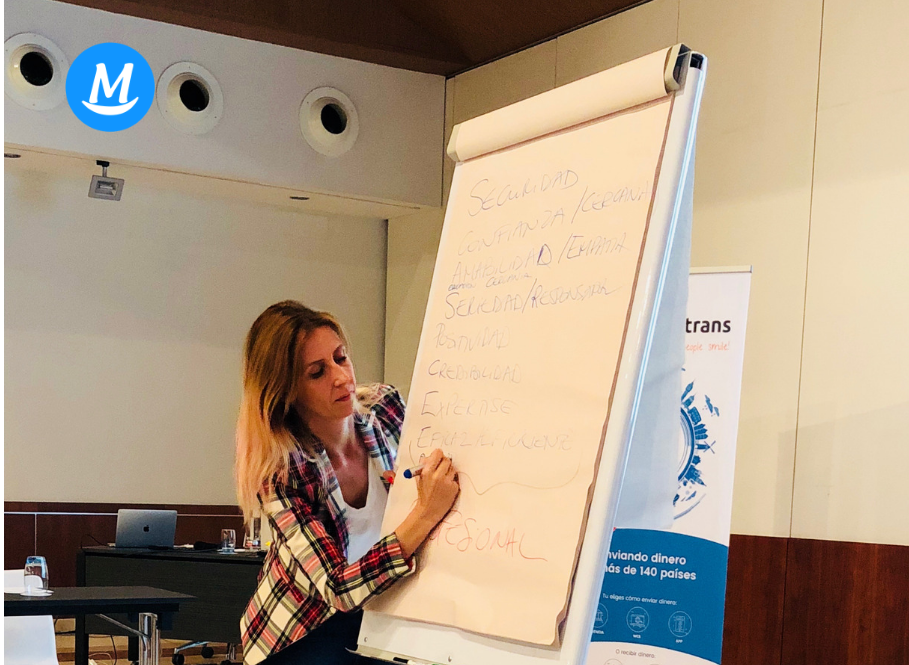 We shared some photos of the event!